Top > About Us > News Letter > Fostering World-leading Dermatologists in Clinical Care and Research
Fostering World-leading Dermatologists in Clinical Care and Research
From The University of Tokyo Hospital to the World
Department of Dermatology

Shinichi Sato, Professor and Chairman
The Department of Dermatology of the University of Tokyo Hospital upholds the goal of fostering world-leading dermatologists in both clinical care and research. The skin is the body's largest organ, equipped not only with a barrier function to protect the body from the outer environment, but also with a metabolic function, immune function, and a range of other functions. Dermatology can therefore be described as an interdisciplinary science involving a vast spectrum of areas. At our department, we provide care to all patients with skin symptoms caused by diverse conditions including allergies, collagen disorders, skin tumors, infections, and congenital disorders. Treatments are all-encompassing, including dermatologic surgery and medical dermatology (e.g., for collagen disease), and involve diverse methods such as laser and ultraviolet irradiation and biologics. In addition to addressing general skin disorders, we also provide highly specialized outpatient clinics for scleroderma/connective tissue diseases, atopic dermatitis, psoriasis, bullous disease, and lymphoma as well as for patients who need dermatologic surgery and laser surgery, while engaging in basic research in the respective areas. In the next section, I would like to outline some of the specialized outpatient clinics we offer.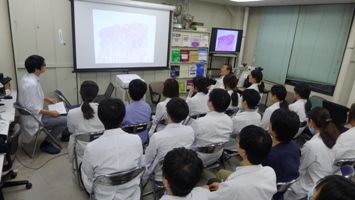 At a conference meeting
1: Outpatient clinic for scleroderma/connective tissue diseases
Classified as a collagen disease, systemic sclerosis (SSc) is characterized by cutaneous and visceral fibrosis and vascular disorder. There are believed to be over 30,000 SSc patients in Japan. Symptomatic therapy is currently the main treatment available for the disease, which is designated by the Ministry of Health, Labour and Welfare as one of the specified intractable diseases under subsidized research. Our department opened a specialized outpatient clinic for SSc patients in the 1980s, and has focused on clinical care for and research into the disease. The complicated cause of the disease is yet to be clarified, but it has been revealed that three kinds of abnormalities play key roles: (1) immune abnormalities (presence of autoantibody); (2) fibrosis (fibroblast activation); and (3) vascular disorders (e.g., Raynaud's phenomenon, digital ulcers). We have shared our research findings with the global medical community by publishing numerous papers and making presentations at international conferences. We have also been proactively engaged in the development of new therapies, introducing and implementing clinical studies and trials on rituximab (anti-CD20 antibody), tocilizumab (anti-IL-6 receptor antibody), and brodalumab (anti-IL17RA antibody). In April 2018, the University of Tokyo Hospital became the first institution in Japan to establish a medical center dedicated to SSc patients. Named the SSc Center, the facility provides SSc patients with access to high-quality and intensive treatment across a range of departments offered by a multidisciplinary team of doctors.
2: Outpatient clinic for lymphoma
Our department offers an outpatient clinic for patients with cutaneous malignant lymphoma, a relatively rare disease with few specialists. Hospitals providing a specialized outpatient clinic for the disease are also scarce in Japan. Our lymphoma outpatient clinic, which also offers an online consultation service, draws patients from not only the Kanto region, but also from across the country. Broad treatment options are offered here, ranging from ultraviolet irradiation for mild cases to oral or intravenous administration of anticancer agents for severe cases. If necessary, we work in coordination with Radiology and Hematology to deliver radiation therapy and hematopoietic stem cell transplant, among other treatments. Moreover, our lymphoma outpatient clinic is part of an international consortium for cutaneous lymphoma, which is composed of scientific societies that have issued treatment guidelines for cutaneous malignant lymphomas, including the International Society for Cutaneous Lymphomas. This allows us to participate in global epidemiologic studies.
3: Outpatient clinic for psoriasis
Psoriasis is a common inflammatory skin disease presented as multiple erythematous plaques developing across the body. Psoriasis patients may also develop arthritis, uveitis, cardiovascular lesions, and glucose/lipid metabolism disorders, among others, which is why the disease is known to essentially require early treatment and lifestyle counseling. Recent studies have shown that psoriasis is among the diseases that most significantly impair patients' quality of life, and this has prompted vigorous efforts to develop effective treatments. Such efforts have culminated in the development of new treatments in recent years, including biologics, namely anti-cytokine antibodies, and phosphodiesterase-4 (PDE4) inhibitors. However, given the increased treatment options now available, the method of treating the disease has become all the more complex, requiring us to select the most appropriate option for each patient in light of their symptoms and living environment. In response to such needs, our department established the Psoriasis Center, where we can provide treatments tailored to each patient based on our specialized knowledge.
4:Outpatient dermatologic surgery
The dermatologic surgery team takes care of skin diseases that require surgery, such as benign and malignant skin tumors and hidradenitis suppurativa. In consideration of each patient's condition, the team makes efforts to explain to them their treatment options including non-surgical treatments in an easy-to-understand manner. Exponential progress has been made in the treatment of malignant skin tumors. We use immune checkpoint inhibitors including nivolumab, pembrolizumab, and ipilimumab for malignant melanoma patients, some of whom have experienced complete response to the drugs. Other advanced medical care we can offer includes the grafting of autologous cultured epidermis for extensive burns and exhaustive gene analysis using the Todai OncoPanel test. Furthermore, our department also conducts clinical studies on malignant skin tumors as a member of the skin tumor group of the Japan Clinical Oncology Group (JCOG).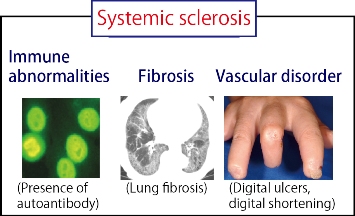 Pathological conditions of systemic sclerosis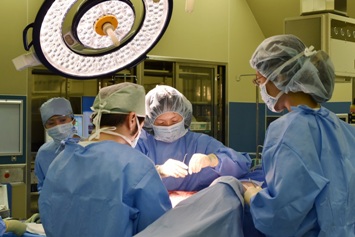 Dermatologic surgery team of our department