Top > International Patients > Visiting Hours
Visiting Hours
Visiting hours are as follows *
7:00 - 20:00, daily
Please apply for your visit and receive the visitor label at the General Information counter on the 1st floor of Ward A. Card keys are provided for visits on Saturdays, Sundays, and National holidays as well as visits to certain floors. Please return them when you leave.
When you arrive at the ward, please tell a nurse about your request to visit a patient.
To prevent infection, visits by many people at one time or by children aged 12 or under are not allowed.
People having cold or other illness are not allowed to visit patients.
Please disinfect your hands thoroughly before you enter the patient room.
Please pay consideration so as not to disturb other patients' medical care and rest.
Please do not eat in the patient room while visiting a patient.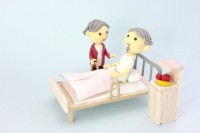 *Further restrictions may apply on ICU, PICU and other highly specialized units.