Top > About Us > News Letter > Pursuing better medical care that puts patients first
Pursuing better medical care that puts patients first
New Director, Yasuyuki Seto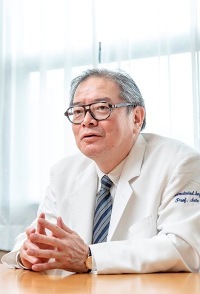 Over the past 160 years, the University of Tokyo Hospital has contributed to the development of medical care in Japan under its philosophy of "contributing to the advancement of clinical medicine and the cultivation of healthcare professionals in order to provide each patient with the best medical care." Having assumed office as the new director of this long-established hospital, I feel the weight of the responsibility as well as the fulfilling challenge my new role has brought to me.
University hospitals have three missions: medical care, education, and research. The University of Tokyo Hospital annually cares for a total of 690,000 outpatients (2,800 a day on average) and 350,000 inpatients (970 a day on average), and annually performs over 11,000 surgeries. Meanwhile, our hospital also engages in medical education and research as an organization affiliated with the University of Tokyo, a leading higher education institution in Japan.
If our hospital is to continue fulfilling the missions above, it is crucial that we continue to be the hospital of choice for patients. To this end, we, needless to say, must provide advanced and state-of-the-art medical technology and secure a management system that places top priority on safety. In addition, by no means can we disregard the importance of creating a patient-first medical setting where patients can feel safe and comfortable. Our staff are making concerted efforts to reduce waiting times and improve the in-hospital environment with the aim of alleviating the burden placed on patients and their families and advancing compassionate and patient-friendly medical care. Being a large hospital, we must tackle these challenges all the more conscientiously.
To deliver better medical care where we put ourselves in the place of patients, we need to take a broader perspective beyond that of healthcare providers, and incorporate the views of patients, families and visitors into the relevant point of care. Your problems, requests and suggestions are of utmost value to us, and therefore we humbly ask for your frank opinions. Please do not hesitate to provide us with your feedback. One way of doing so is to leave a comment in one of the comment boxes placed within the hospital.
Over the past several years, we have been working on our hospital redevelopment project, which has been completed this fiscal year, with new medical care and clinical research facilities established.
I anticipate that the new buildings will serve as an active center of world-class clinical care and medical research. By building on our long-established track record, leveraging our new resources, and delivering compassionate and holistic medical care tailored to each and every patient, we are determined to pursue sustainable development both as a medical institution and a medical education/research institution of the world's highest standard.