Top > About Us > News Letter > Orthopedic Prosthesis Center
Department of Orthopedic Surgery, Orthopedic Prosthesis Center
Special Edition
Prosthetic Treatment Specialization Group


We have created the Orthopedic Prosthesis Center for the patients with joint diseases, such as osteoarthritis and rheumatoid arthritis, for which joint replacement is necessary. It is a specialist group of full-time staff who specialize in prosthetic treatment for hip, knee, ankle, and elbow joints. They use new technology and techniques that have been developed from the many years of experience of our hospital's orthopedic and spinal surgeons. We deliver optimal treatment that fits the condition of each and every patient.
A Full-Time Specialist for Every Joint
The Prosthesis Center is a group specializing in prosthetic treatment, and the staff within each of the Knee Joint Prosthetics, Hip Joint Prosthetics, Leg Prosthetics, and Elbow Joint Prosthetics Outpatient Centers are responsibly conducting orthopedic examinations and surgical treatments. By always having at least two specialist staff for each joint and conducting periodic conferences before surgeries, we are able to develop a balanced treatment policy. We also take post-surgical follow-ups seriously, and conduct one outpatient examination per year over the patient's lifetime.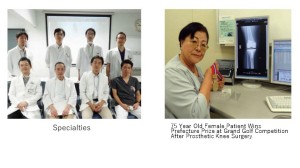 Prosthesis Center Staff
We accept all patients with severe joint pain, such as those with osteoarthritis of the knee, leg, shoulder, and elbow, rheumatoid arthritis, femoral head necrosis, osteonecrosis of the knee, and post-traumatic arthritis. For example, most cases of gonarthrosis and coxarthrosis may be caused by previous injury, due to age, excessive weight, etc. As these conditions worsen and necrosis evolves, it leads to severe pain and surgery may be necessary. If severe pain continues for more than three months, we recommend seeking treatment. There are cases where the elderly think it is just a part of aging, so it is important for family members to recognize this for them.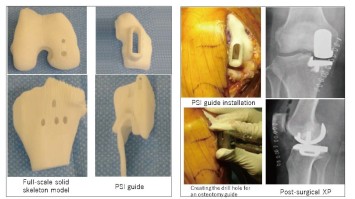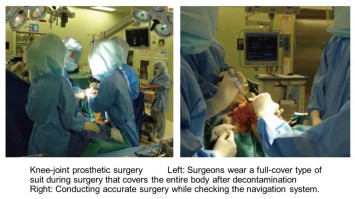 Reliable Surgeries Improve Post-Surgery Quality of Life
A patient's quality of life after surgery varies depending on whether the prosthesis's components (parts) were correctly installed in the right place during prosthetic surgery. We are introducing image-free navigation systems in all cases of prosthetic knee surgery. There is no worry of destruction and no need to take a CT or MRI in advance. By using specific tools to point out areas of reference during surgery, we can craft out a precise surgical plan. Since the stereoscopic surgery is more precise than with former methods, we can install the components more accurately. Furthermore, in some cases we can combine this with other types of navigation. For example, if it is impossible to use image-navigation system due the large size of operating area, we will use a 360 degree fluoroscopic image (x-ray) during surgery to understand the condition inside the joint.

Additionally, for all cases of prosthetic hip surgery, we create a detailed surgical plan called 3D Templating. Before surgery we take a CT scan of the hip joint, utilize a stereoscopically reconstructed image, understand the exact condition of the affected area, and create a plan for the surgery. In difficult cases where there are great irregularities in shape, we create a full-scale, solid model of the hip joint based on additional CT and MRI imagery. By making it possible to correctly understand the anatomical location, we can conduct a simulation before surgery. Surgical plans using the full-scale solid model can also be conducted for knee joint and elbow joint disorders.

Surgery with Many Variations
We select suitable surgery methods and implants to use based on the type of lifestyle the patient had before surgery and the type of lifestyle they require after surgery. This is not only surgery for implanting a prosthesis. Depending on the case, we might expect a more favorable outcome from osteotomy or arthrodesis. We select a method that fits the patient after carefully considering the suitability of the surgery.

We conduct a special surgery that leaves the ACL intact after implanting a knee-joint prosthetic. It is a surgery that comes close to emulating the form of a young person's knee in an elderly person. In recent years, new implants have been developed. In the future, we may be able to expect a combination method for preserving the ligaments.
Our hospital's Department of Orthopedic Surgery has the longest history in Japan and abundant experience. For example, the hip acetabulum osteotomy is an outstanding procedure that preserves the joint; however, there are cases where after about 30 years pass it is completely useless and requires surgery to replace it with a prosthesis. We have a lot of experience in this type of high-difficulty cases with adhesions and deformations. We are utilizing this experience when we conduct brand-new, difficult procedures as well.

Making Safety and Peace of Mind of the Utmost Importance
It is important to provide advanced treatment; however, even before that we consider safety and peace of mind to be of the utmost importance. We provide treatment that is most suitable for each patient, utilizing our previous experience and integrating new things. We take all necessary time and effort to make scrupulous preparations, to increase the procedure's accuracy and achieve great results for our patients. Furthermore, as prosthetic surgeries can cause bacterial infections, we take the time to prevent contamination by thoroughly cleaning that area of the patient. Most notable is the fact that we haven't had a single case of contamination in a hip-joint procedure in the last 10 years.
A Message from the Head of the Center
Our center's goal is to relieve every patient from joint pain and give them a fun everyday lifestyle back. In order to do so, we are actively implementing advanced treatments; and we want to decide with each patient what can be considered the best treatment method. We look forward to helping you too.
Dr. Hiroshi Inui, Head of Orthopedic Prosthesis Center