Top > About Us > News Letter > てんかんセンター
New Epilepsy Center Established
Feature article
To provide more accurate diagnosis and appropriate treatment for epilepsy

New Epilepsy Center Established
—Aiming at improved diagnostic accuracy through broad collaboration among clinical departments and units

Background to establishment
In recent years, the environment surrounding epilepsy has been changing substantially. As needs for more appropriate epilepsy treatment grow, new therapeutic drugs have emerged, the accuracy of diagnostic methods has improved, and surgical therapies have progressed, ushering in a new era in treating the disorder. In 2015, WHO suggested the enhancement of comprehensive epilepsy treatment. To provide epilepsy diagnosis and treatment at a more appropriate and higher level in response to these substantial changes, the University of Tokyo Hospital established an Epilepsy Center in October 2016, and opened an outpatient unit for first-time patients in January 2017.
Progress in therapeutic technology has enabled many patients with epilepsy to lead a life free of seizures. However, they are still faced with direct and indirect inconveniences, including anxiety about the possibility of relapse, psychological and financial burdens of drug administration, concerns about adverse side effects of drugs and potential impacts on pregnancy, restrictions in employment, social prejudice, and lack of understanding. To provide care to epilepsy patients who are facing such difficulties, it is desirable that treatment, rehabilitation, and patient education based on appropriate information provision by various departments be included, as opposed to conventional diagnosis and treatment by a single clinical department. To this end, it is important to establish a comprehensive care system that engages an inter-disciplinary team made up of diverse specialists from throughout the hospital. The term "Epilepsy Center" refers to an epilepsy care system that can be organized by networking functional entities that provide the respective expertise and skills from multiple related departments. To date, 35 facilities have been registered as Epilepsy Centers across Japan (Japan Epilepsy Center Association;). Epilepsy Centers particularly focus on comprehensive diagnosis and treatment for refractory epilepsy, while collaborating with local medical facilities for the purpose of improving epilepsy care throughout the entire healthcare system.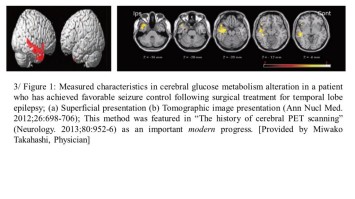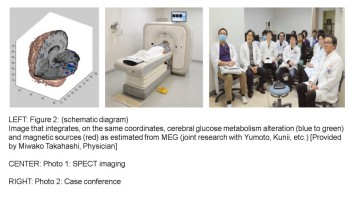 Features of our Epilepsy Center
1) Diagnosis of epilepsy
The first feature of our Epilepsy Center is the broad range of related clinical departments and units. As clinical departments that treat patients with epilepsy, it has been common to refer to Pediatrics for onset during infancy, to Neurology for onset in adulthood, and to Neurosurgery if surgical operation becomes necessary for treatment. At our Center, specialists in epilepsy from Neuropsychiatry and specialists in dementia from Geriatrics also join the team.
Over the course of its progression, epilepsy involves various mental symptoms including anxiety and depression. Meanwhile, conditions that are often mistaken for epilepsy include psychogenic non-epileptic seizures, which are considered to be caused by mental problems. It is recognized as extremely important for epilepsy treatment to provide appropriate care for mental symptoms of patients with epilepsy, and to correctly diagnose psychogenic non-epileptic seizures.
Japan is advancing toward an unprecedented super-aging society. The onset of epilepsy has two peaks, during infancy and old age. The number of patients developing epilepsy during old age is increasing. In such patients, differentiation between dementia and epilepsy symptoms becomes difficult, with some epilepsy seizure symptoms are at risk of being mistaken for a decline in cognitive functions caused by dementia. In elderly patients with epilepsy, abnormal findings are sometimes difficult to identify even through EEG. Deployment of a team that consists not only of specialists in epilepsy but also specialists in diseases that manifest similar symptoms enhances the accuracy of epilepsy diagnosis.
A broad range of specialists are engaged in the diagnosis of epilepsy, including diagnosis through EEG, diagnostic imaging, and psychological testing. Our Epilepsy Center is one of only a handful in Japan that engages a number of clinical departments and units, with care provided by inter-disciplinary teams made up of specialists from throughout the hospital. Such teams include not only physicians specializing in EEG, MEG, and other neurophysiological testing but also specialists in nuclear medicine diagnostic imaging. Nurses, clinical technologists, and other healthcare professionals engaged in long-time video-EEG monitoring, which is extremely important for the diagnosis of epilepsy, are also on the teams, along with clinical psychologists, occupational therapists, social workers, and pharmacists.
Another of our strengths is that all key tests required for the diagnosis of epilepsy can be conducted at our Center. Following a process of academic presentation and patent application, we have developed a new automatic analysis method to estimate the focus of epilepsy (Figure 1), which has been leveraged in the diagnosis of respective focus in individual patients (Figure 2 and Photo 1).

2) Treatment of epilepsy
Regarding treatment, new antiepileptic drugs have been developed in quick succession recently, providing a broader selection of internal medicines for patients who have difficulties in adequately controlling seizures. While many patients are able to control seizures by taking appropriate antiepileptic drugs, seizure control is difficult for some patients without surgery. Regarding treatment in cases where surgery is an option, the treatment policy for each patient is examined in detail in online case conferences that connect staff from related clinical departments and units in our hospital with specialists at other facilities (Photo 2).
A unique feature of surgical epilepsy treatment at our hospital is that we offer all procedures for all age groups. In recent years, vagus nerve stimulation therapy has drawn attention as a new surgical therapy in addition to surgical resection of parts of the brain that cause epileptic seizures. Our hospital has introduced vagus nerve stimulation therapy earlier than any other facilities in Japan, and is a leader in terms of the number of operations performed using this method.