Top > Centers & Services > Clinical Divisions and Departments > Orthopaedic Surgery and Spinal Surgery
Orthopaedic Surgery and Spinal Surgery
The Department of Orthopaedic Surgery and Spinal Surgery treats disease and trauma to the motor organs. The Department of Orthopaedic Surgery of the University of Tokyo Hospital, the first department specializing in orthopedic surgery in Japan, has been playing a leading role in orthopedic surgery in the nation.
Medical services
Approximately 25 full-time specialists certified by the Japanese Orthopaedic Association provide cutting-edge treatment in their specialized fields. The average number of surgeries performed annually is approximately 1,000 and is increasing every year.
Treatment policy and specialties
A treatment strategy for each patient is determined in a comprehensive manner after extensive discussion by a group of specialists in the pertinent field, with the patient's wishes taken into consideration. We specialize in spinal surgeries (atlantoaxial fixation, deformity correction, etc.) and artificial joint replacement using a navigation system, microsurgery, arthroscopic surgery, spinal endoscopy, and radical resection and chemotherapy for malignant osteochondroma.
Target diseases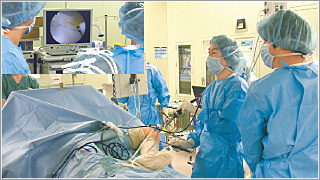 Cervical spondylosis myelopathy. Ossification of the posterior longitudinal ligament, atlantoaxial subluxation, lumbar spinal stenosis, lumbar spondylolisthesis, disk herniation, rheumatoid arthritis, hip osteoarthritis, acetabular dysplasia, knee osteoarthritis, knee cruciate ligament damage, meniscal tear, bone tumor, soft tissue neoplasm, hand surgery, short extremities, etc.

Advanced treatments/ Specialized treatments
Surgery using a computer navigation system
Our hospital adopted this safe and accurate computer-guided surgery technique earlier than any other hospital, and we have already performed many surgeries using this technique.
Surgical planning using three-dimensional reconstruction imaging
A threedimensional bone structure model is generated from pre-operative images in the case of severe deformity.
Perioperative CT scanning
A CT scanner is used to monitor surgical procedures perioperatively.
Bone strength measurement using finite element analysis
A new assessment method for osteoporosis.
Website of the Department of Orthopaedic Surgery and Spinal Surgery of the University of Tokyo Hospital : http://www.u-tokyo-ortho.jp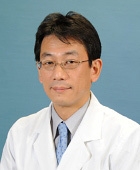 Departments/Divisions
Orthopaedic Surgery and Spinal Surgery
Titles
M.D. , Ph.D.
Expertise/Specialties
Joint surgery, rheumatoid arthritis, osteoporosis
Research Interests
Bone and cartilage biology, arthritis
Languages
Japanese, English
Representative orthopedic surgeries performed in this department
Name of operation/treatment
Number

Spinal surgery:

252
Cervical spine disease
88
Thoracic vertebra disease
19
Lumbar vertebrae disease
86
Scolioses and related diseases
30
Minimally invasive surgery such as endoscopic surgery (may partially overlap with the above)
51

Knee surgery:

252
Artificial knee joint (TKA + UKA)
106
Ligament reconstruction
40
Hand surgery:
251
Thumb Carpometacarpal Arthroplasty
14
Surgery for Dupuytren's contracture
7
Surgery for distal radius fracture
27
Tenorrhaphy and tendolysis
5
Tumorectomy
5
Surgery for carpal tunnel syndrome
23
Pediatric surgery
22
Hip surgery:
132
Artificial hip joint
119
Artificial hip joint (hip replacement)
7
Rotational acetabular osteotomy
7
Tumor surgery:
90
Extended resection of malignant bone and soft tissue tumors
28
Resection of benign bone and soft tissue tumors
40
Others (such as incisional biopsy)
14
Rheumatoid arthritis surgery:
62
Artificial hip joint
8
Artificial knee joint
12
Artificial elbow joint
11
Forefoot arthroplasty
13

Foot and Ankle Surgery

48
Trauma:
183
Pediatric orthopedics:
17
(2015)
Areas of expertise, treatment and examination methods
Diseases
Cervical myelopathy or cervical spondylotic myelopathy
Posterior longitudinal ligament ossification
Yellow ligament ossification
Spinal canal stenosis
Disc herniation
Scoliosis
Hip osteoarthritis
Knee osteoarthritis
Rheumatoid arthritis
Femoral head necrosis
Osteoporosis
Knee ligament injury
Bone and soft tissue tumors
Limb deformities
Refractory fractures
General trauma
Thumb Carpometacarpal Arthroplasty
Flexor tendon injury
Hallux valgus
Treatment methods
Arch plasty for cervical and lumbar vertebrae
Anterior spinal decompression
Herniated disc resection
Corrective spinal osteotomy
Total joint replacement (hip, knee, and elbow)
Rotational acetabular osteotomy
High tibial osteotomy
Rheumatoid arthritis surgery (wrist and forefoot arthroplasties)
Knee-arthroscopic ligament reconstruction
Extended resection of malignant bone and soft tissue tumors
Resection of benign bone and soft tissue tumors
Bone lengthening
Surgery for pseudarthrosis
Invasive internal fixation
Tenorrhaphy
Thumb Carpometacarpal Arthroplasty
Surgical repair of hallux valgus
Examination methods
Imaging (such as plain X-rays, CT, NRI, and 3-D imaging)
Bone density measurement
Electromyography
Nerve conduction velocity measurement
Radiculography
Myelography
Bone scintigraphy/PET
Needle biopsy
Knee arthroscopy