Top > Centers & Services > Central Clinical Services > Department of Hemodialysis and Apheresis
Department of Hemodialysis and Apheresis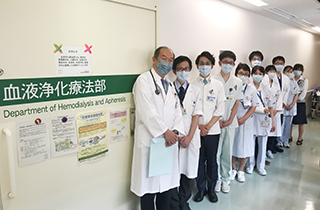 The Department of Hemodialysis and Apheresis is mainly responsible for 1) the induction of hemodialysis in chronic kidney disease patients, 2) maintenance dialysis while patients are hospitalized for complications, 3) renal replacement therapy for acute kidney injury and critical patients in ICU, and 4) plasma exchange and other apheresis therapy. The Department of Hemodialysis and Apheresis can provide a wide variety of advanced medical care through renal replacement therapy and apheresis, which is indispensable for the University Hospital.
Medical services
The Department of Hemodialysis and Apheresis has twelve beds (including one in a private room with negative/positive pressure control) and a highly advanced monitoring system is installed in each bed. Nephrologists and urologists, who are specialists for dialysis and apheresis, are engaged in daily treatment. We provide treatment from a multifaceted perspective for the patients even with critically ill or unstable condition unique to this hospital, while ensuring safety through high-level risk management.
Diagnosis and treatment policy
The medical team, made up of doctors, nurses, and clinical engineers, discusses and decides treatment for each patient every morning. A weekly conference is held every Thursday to review and discuss dialysis/apheresis treatment plans with the specialists in other field such as cardiology and surgery.
Specialties
Plasma exchange: Plasma exchange is performed for the conditions such as liver transplantation, fulminant hepatitis, and thrombotic thrombocytopenic purpura. We combined hemodialysis with plasma exchange to minimize the complications of acid-base and electrolyte disorders. We flexibly select the most appropriate treatment for each patient among such treatment methods as selective plasma exchange, DFPP, and immunoadsorption (IAPP).
Cytapheresis: Granulocyte and monocyte adsorption apheresis (GMA) is performed for the treatment of inflammatory bowel disease such as ulcerative colitis.
Intermittent infusion hemodiafiltration (I-HDF): A variant method of HDF in which ultra-pure dialysate is infused into the blood circuit at regular intervals to stabilize hemodynamics during treatment.
Cell-free and concentrated ascites reinfusion therapy (CART): We perform CART therapy for the patients with refractory ascites due to cancerous peritonitis aiming to improve their quality of life.
Target diseases
Chronic kidney disease, heart failure, acute kidney injury, fulminant hepatitis, hepatic failure and liver transplantation, ulcerative colitis, autoimmune disorders (for example, Guillain-Barre syndrome, CIDP, and myasthenia gravis), thrombotic thrombocytopenic purpura, hyper-viscosity syndrome, refractory ascites, and more.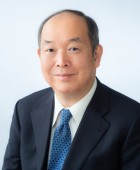 Departments/Divisions
Division of Nephrology and Endocrinology, Department of Hemodialysis and Apheresis
Titles
M.D. , Ph.D.
Expertise/Specialties
Chronic kidney disease, Acute kidney injury, End stage kidney disesae, Hemodialysis, Nephrotic syndrome, Renal anemia, Atypical hemolytic uremic syndrome
Research Interests
Oxygen metabolism of the kidney, immunological kidney injury, epigenetics, renal anemia
Languages
Japanese/English