Top > About Us > News Letter > A world-leading department in medical care and research in all fields of gastroenterology
A world-leading department in medical care and research in all fields of gastroenterology
Message from the University of Tokyo Hospital to the World
Kazuhiko Koike, M.D., Ph.D., Professor and Chairman, Department of Gastroenterology

The Department of Gastroenterology covers diseases in three areas: the liver, the bile duct and pancreas, and the digestive tract. Although our department is a part of internal medicine, currently we are also good at interventional therapeutics similar to what surgeons perform, for instance radiofrequency ablation of liver cancer using a percutaneous needle insertion, endoscopic removal of gallstones, and endoscopic treatment for early gastric or colorectal cancer. We have more than 3,000 inpatients per month. As the largest department in the University of Tokyo Hospital, we are engaged in the diagnosis and treatment of patients.
1-1. Medical care for patients with liver diseases
We provide inpatient care mainly for patients with primary and metastatic liver cancer. In our department, radiofrequency ablation of liver cancer, in particular, has been performed in more than 9,000 patients since it was introduced in 1999. The case number is the largest not only in Japan but also worldwide, and many patients who are difficult to treat in other hospitals are referred to us. In the outpatient department, we provide treatment mainly for patients with hepatitis B and C and also focus on the medical care for patients with non-alcoholic fatty liver disease, which has been increasing recently. We have introduced a hepatitis C treatment with an all-oral interferon-free regimen and have successfully treated many patients by eliminating hepatitis C viruses efficiently in outpatient setting without hospital admission.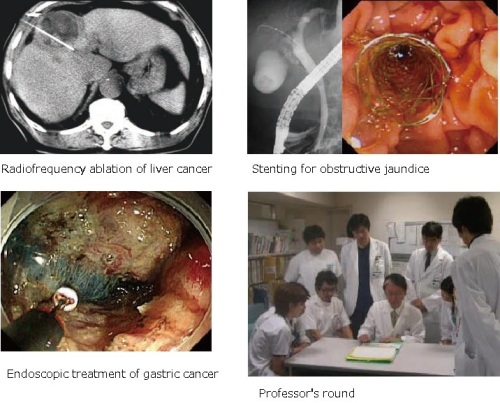 1-2. Basic research on liver diseases
Studies conducted by our department demonstrated that hepatitis B and C virus proteins themselves have carcinogenic potential in mouse models, and it was the first report on the carcinogenicity in the world. We are now conducting researches to eliminate hepatitis B viruses completely and to clarify the pathogenesis of non-alcoholic steatohepatitis. We also focus on the analysis of liver carcinogenesis in the setting of steatohepatitis, whose clinical significance is increasing, and we communicate new basic and clinical findings to the world. Furthermore, to overcome various liver diseases, we are always engaged in innovative research with the most advanced knowledge and techniques, such as genomics, regenerative medicine, and genetic engineering, in addition to various types of clinical research.
2-1. Medical care for patients with diseases of bile duct and pancreas
In this field, we mainly provide endoscopic treatment and chemotherapy. We believe that we have the world's top-class technique for the endoscopic treatment of bile duct and pancreas diseases. In addition, we disseminate new evidence that is obtained from our numerous clinical research projects to the world. It is our style to enhance the quality of medical care by conducting clinical research and to avoid merely providing routine care. Our chemotherapy for biliary and pancreatic cancers is also the most advanced in the world. We thus can say that our overall ability to treat patients with chemotherapy and endoscopic treatment is incomparable in the world. We particularly focus on treatments of pancreatic cancer, which is known as the most intractable cancer, and we keep making our efforts to improve patients' outcome by investigating groups of patients at high-risk of pancreatic cancer and the effects of preoperative adjuvant chemotherapy.
2-2. Basic research on bile duct and pancreas diseases
We are also active in basic research that leads to the detection and treatment of diseases in the pancreas, gallbladder, and bile duct. Tumors and inflammation in these organs are generally difficult to detect at an early stage, and in order to develop an early and accurate diagnosis, we are engaging in researches investigating causative factors including oncogenes and abnormal nucleic acids or proteins to detect them in the blood or tissue in a highly sensitive manner. We established an animal model that is used to investigate the mechanism of cancer development in the pancreas and bile duct. The usefulness of our model is internationally recognized, and our model has been proven to be useful for research on mechanism of cancer development. Furthermore, using this model, we have been conducting research on new therapeutic drugs and are continuously committed to translate these research results into clinical practice.
3-1. Medical care for patients with digestive tract diseases
We provide medical treatments of a wide range of diseases and pathological conditions in the digestive tract: endoscopic diagnosis and treatment of early cancer in the digestive tract (the esophagus, stomach, large intestine, and rarely the duodenum and the mouth and pharynx) (our most sophisticated specialty is endoscopic submucosal dissection [ESD]); treatment with anti-cancer drugs or stents for advanced gastrointestinal cancer that is difficult to treat surgically; diagnosis and treatment of diseases in the small intestine, which was once referred to as the "Dark Continent"; and a variety of endoscopic hemostasis for gastrointestinal bleeding.For more than half a century, we have been engaged in the development of various endoscopic equipment and technologies, which are widely used around the world.
3-2. Basic research on gastrointestinal diseases
Our basic research focuses on gastric cancer and colorectal cancer, which are the leading causes of death among Japanese people, to investigate mechanisms of cancer development and establish effective examination methods and new treatments of these types of cancer. We investigate how the differentiation of stem cells that produce normal tissues or cancer cells is regulated and study the effect of treatments targeting these regulatory processes. The digestive tract is a unique organ in which numerous bacteria live in the human body. Symbiotic bacteria, e.g., Helicobacter pylori and intestinal bacteria, may be associated with diseases in the digestive tract, including cancer and inflammation, and lifestyle-related diseases, such as obesity and fatty liver. We are investigating such effects and their mechanisms to find new treatments that target or use these bacteria.
4. Aiming for further development
As shown above, in all of these areas, we provide the most advanced medical care in the world. Furthermore, we are always engaged in the development of novel diagnosis and treatments by conducting researches. Our ultimate goal is to cure diseases in all patients.