Top > About Us > News Letter > Clinical and research activities in the Department of Respiratory Medicine
Clinical and research activities in the Department of Respiratory Medicine
Message from the University of Tokyo Hospital to the World
Department of Respiratory Medicine, Professor and Chairman, Takahide Nagase, M.D. & Ph.D

(1) What is respiratory disease?
The respiratory organ is important and responsible for breathing, which is essential for us to live every day. Because it always contacts the external air for gas exchange, it has various defense mechanisms to protect the body against foreign substances in the air (e.g., pollutants or pathogens); however, the function of these mechanisms sometimes fails because of other additional factors, such as an environment or a patient's constitution (predisposition) or aging, which leads to an onset of respiratory disease. At the Department of Respiratory Medicine, we provide medical care for respiratory disease, including infection, inflammation, and tumors, in the respiratory organ, including the airway, bronchi, lung parenchyma and interstitium, pulmonary circulation, and pleura (Figure 1).
Respiratory disease is a leading cause of death in the world: chronic obstructive pulmonary disease (COPD) is in third place; respiratory infection is in fourth; and malignant tumor in the airway and lung is in fifth. Whereas Japan's first leading cause of death is malignant tumor, lung cancer accounts for the largest number of these deaths. Respiratory infection is the third leading cause of death in Japan, and the number of deaths from COPD is increasing every year. Therefore, we believe that further development of medical care is required to overcome respiratory disease in the future.

(2) Approaches in the Department of Respiratory Medicine, University of Tokyo
At the Department of Respiratory Medicine, we provide medical care to treat many respiratory diseases, including lung cancer, COPD, bronchial asthma, interstitial pneumonia, sarcoidosis, bacterial pneumonia, pulmonary mycosis, nontuberculous mycobacteriosis, pyothorax, pneumothorax, and acute or chronic respiratory failure. We see a total of ~1200 outpatients and ~900 inpatients every month. In addition, we have a consulting team that is responsible for the medical care of inpatients admitted to other departments, such as treating their respiratory symptoms, making preoperative assessment of their respiratory state, and treating their postoperative respiratory complications. If needed, the consulting team visits these inpatients. Needless to say, we always keep in mind the evidence-based, high-quality, necessary medical practice to engage in daily medical care (Figure 2).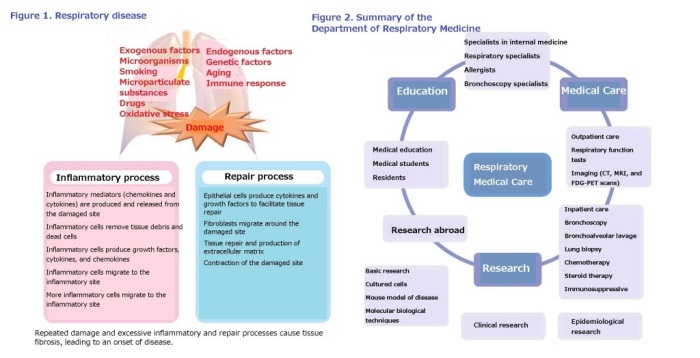 (3) Outpatient care
Seventeen respiratory specialists, including Professor Nagase, are in charge of our outpatient clinic. To accurately diagnose and treat respiratory diseases, we perform respiratory function tests required for each patient's respiratory symptoms, 24-hour monitoring of arterial oxygen saturation by a pulse oximeter, and various types of diagnostic imaging (e.g., chest CT or MRI scans and fluorodeoxyglucose (FDG)-PET scans). For patients with airway inflammatory disease (e.g., bronchial asthma and COPD) or interstitial pulmonary disease (e.g., pulmonary fibrosis), we aim to control the disease during its stable stage and to suppress its exacerbation.
(4) Inpatient care
We provide our inpatients with team medical care led by respiratory specialists. In bronchofiberscopy for diagnosis, we particularly commit ourselves to more accurate diagnosis by performing bronchoalveolar lavage and collecting lung tissues under ultrasound guidance (Figure 3). In our inpatient ward, we evaluate whether strategies for tests and treatments are appropriate at a daily conference and a weekly all-hands conference, in which Professor Nagase and all other physicians in the Department of Respiratory Medicine participate. In addition, we hold the Cancer Board (CB conference) once a week with medical staff in the Departments of Thoracic Surgery and Radiology to perform multidisciplinary treatment of lung cancer and to discuss cases that are difficult to diagnose or treat, which are not necessarily lung cancer.
(5) Basic research in the respiratory organ
To investigate new pathology and seek new treatments, we have been conducting molecular biological research to examine the role and involvement of various types of cultured cells, which are derived from the respiratory system, in respiratory disease. We have particularly focused on investigating functions of airway epithelial cells and fibroblasts in airway inflammatory disease, analyzing epithelial-mesenchymal transition and miRNA in respiratory disease, and analyzing genetic changes in lung cancer and how these changes are related to the patient's prognosis. We use cutting-edge techniques and knowledge to conduct our research and we send the latest findings to the world. We also use animal models to investigate pathology in interstitial pneumonia, asthma, and tumor metastasis and to develop new treatments.
(6) Clinical research in the respiratory organ
Because many respiratory diseases are intractable, early detection and treatment are important for accurate medical care. We currently conduct clinical research to seek molecules or biomarkers that are effective for diagnosis and treatment from serum or pleural effusion from patients with lung cancer or inflammatory disease. For this research, we collaborate with the Institute of Medical Science, University of Tokyo.
(7) Epidemiological research in the respiratory organ
Respiratory disease includes various diseases, which range from prevalent to rare. In collaboration with the Department of Clinical Epidemiology & Health Economics, University of Tokyo, we have conducted comprehensive research to investigate the mortality due to an exacerbation of respiratory disease and risk factors for death using Japan's large healthcare databases. We send new findings to the world.
(8) Future direction
In both outpatient and inpatient care, we aim to provide personalized medicine to each individual patient as well as evidence-based, high-quality medical care. We always engage in establishing new diagnostic methods, investigating pathology, searching for biomarkers to monitor target diseases, and developing new treatments through basic, clinical, or epidemiological research in the respiratory organ. To cope with and overcome respiratory disease, we keep sending useful information to the world.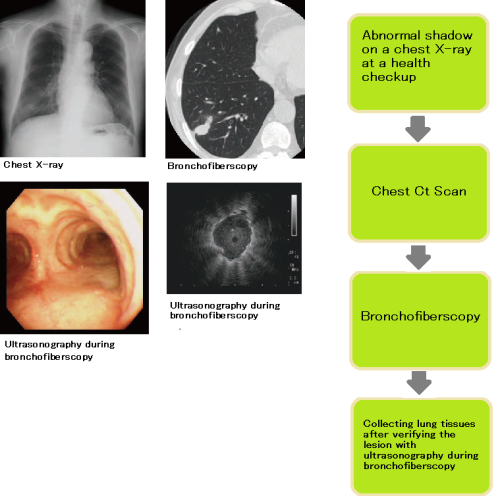 Flowchart of an extensive testing of a shadow found on a chest X-ray