Top > About Us > News Letter > Aiming for better hospital meals
Aiming for better hospital meals

For inpatients, meals often mean one of the few diversions during their stay in hospital. However, because a hospital meal focuses on the nutritional needs of patients, no priority is given to its appearance, color, or variety. The staff at the Department of Clinical Nutrition Therapy consulted a restaurant chef in the planning of strictly controlled hospital meals and special menus. In collaboration with Mr. Seizo Mikuni—a famous chef and owner of French restaurants who has participated in food education activities, written several home cooking books and planned hospital menus—the staff completed three menus for patients staying in special rooms. At the University of Tokyo Hospital, special dishes are not prepared by the designated chef. The hospital staff who prepare daily meals for patients are involved from menu planning to cooking and serving. These special meals are served to patients staying in special rooms, but it is still a new challenge for the staff. The staff members will make the most of this experience and the knowledge they have acquired about hospital meals to date in order to serve tasty, wonderful meals that are enjoyed by patients.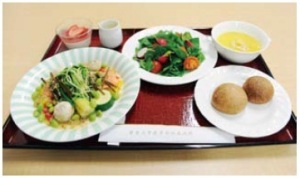 A menu for patients staying in special rooms:
Corn soup, vegetable salad, bran bread, poacher of salmon and vegetables, blancmange
(Total energy: 805 kcal; protein: 36.1 g; salt: 2.8 g)
*Different meals are served to the patients placed on restrictive diets.