Top > About Us > News Letter > Practical use of sharing ECG data from an ambulance - Expected to improve the life-saving rate after myocardial infarction
Practical use of sharing ECG data from an ambulance - Expected to improve the life-saving rate after myocardial infarction
Current medical practice at the University of Tokyo Hospital / Development of a new technology
Department of Ubiquitous Health Informatics, 22nd Century Medical and Research Center

"Cloud server-based mobile 12-lead electrocardiogram (ECG) system" has been put to practical use. This system has been developed and investigated by the Department of Ubiquitous Health Informatics, 22nd Century Medical and Research Center, which is the social collaboration department between the University of Tokyo Hospital and NTT Docomo, Inc. By using this system, the ECG data that is recorded in an ambulance can be quickly shared with cardiac specialists in a hospital, and a patient can be transported to a hospital that is equipped with a special treatment facility, depending on the presence of heart diseases. Therefore, the further improvement of life-saving rate and long-term prognosis can be expected.
(1) Acute myocardial infarction – what is needed to improve the life-saving rate
Acute myocardial infarction is a disease in which the blood vessels of the heart (coronary arteries) are blocked and the cardiac muscles become necrotic. Once it occurs, this disease should be treated as soon as possible in a special medical institution. Recently, the development of catheter intervention has dramatically improved treatment outcomes in hospitals. However, in the current emergency medical care system, if a myocardial infarction occurs outside the hospital, such as at home, it is difficult to make a specialized diagnosis based on an ECG recorded in an ambulance without verification by cardiac specialists. In many cases, acute myocardial infarction cannot be accurately diagnosed before the patient is transported to a hospital, which causes a delay in their transport to a hospital that has a special treatment facility. A problem in these cases is that the patient cannot always be treated at the right time for recovery. Therefore, quicker and more appropriate transport of emergency patients has been desired to improve life-saving rate and life prognosis. Here, we developed a system to quickly share the ECG data that is measured in an ambulance with cardiac specialists in a hospital, so that they can diagnose the disease and select an appropriate hospital before the patient's arrival.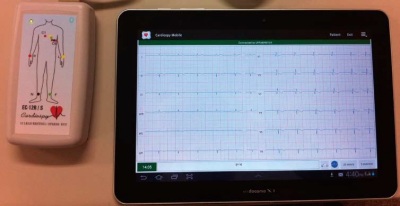 Fig. 1. A small electrocardiograph and a tablet
(2) Sharing ECG data from an ambulance using mobile devices
In this system, a small electrocardiograph and mobile devices (Fig. 1) are connected by radio; therefore, a 12-lead ECG that is measured in an ambulance can be immediately seen on the mobile screen, and it can be even uploaded to a cloud server on the spot (Fig. 2). One cloud server saves all of the uploaded ECG data that are recorded in various parts of Japan. There are several methods to record an ECG. The electrocardiograph for this system records a standard 12-lead ECG, which is used when detailed information is necessary at a patient's first visit to a physician or in the CCU or ICU. From this type of ECG, we can understand the heart condition with various directions for ~10 sec by one measurement. In addition, because the electrocardiograph is small and insusceptible to noise, we can obtain a high-quality ECG waveform. Cardiac specialists with permission who are in a hospital can access the server and confirm the uploaded ECG data, which enables them to quickly provide an accurate diagnosis, even when the diagnosis is difficult to make only from the symptoms. The length of time required for diagnosis is significantly shortened by this system, compared to the traditional systems by which physicians look at an ECG after a patient's arrival. If a heart disease that requires special treatment, such as acute myocardial infarction, is diagnosed, the patient can be directly transported to a hospital with a special treatment facility. Another feature of this system is that it is low in cost with only the minimal function in the view of physicians, because the wide use of this system by municipalities and medical institutions will result in improvement of the life-saving rate.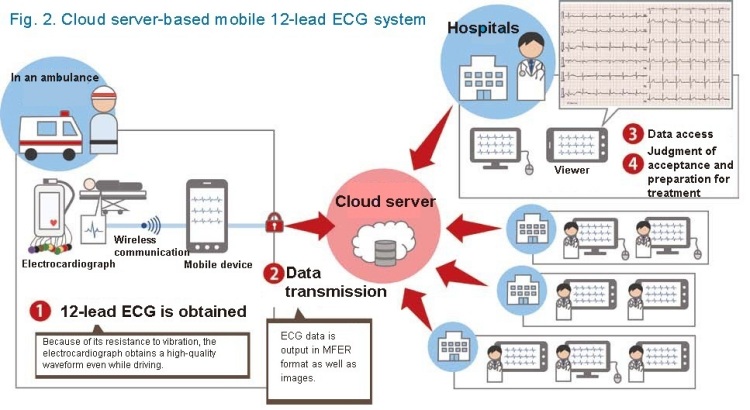 (3) Proven in university hospitals and regional foundation hospitals
To confirm whether this system is safe and efficient in both medical and informational aspects, the Department of Ubiquitous Health Informatics conducted a verification study in collaboration with Kitasato University Hospital (Sagamihara, Kanagawa), Oita University Hospital (Yufu, Oita), and Hokuto Hospital (Obihiro, Hokkaido).
Kitasato University Hospital has emergency response vehicles (Doctor Cars ), with physicians and nurses on board, to send to the site upon a request by the fire department, including for the cases of acute myocardial infarction. In the verification study, physicians measured ECGs using this system in addition to echocardiograms on the site, and made a definite diagnosis in cooperation with cardiac specialists in the hospital. Furthermore, cardiac specialists on call in their Emergency Center checked the ECG data transmitted from the site and immediately started preparation for an emergency catheter intervention, if it was judged to be needed. The emergency surgery was ready when the patient and the Doctor Car arrived at the Emergency Center. As a result, the door-to-balloon time (time from hospital arrival to coronary reperfusion) was significantly shortened by 18 min (Fig. 3, Int Heart J 2015, in press). We expect this system to be highly effective, because a recent study of this index published internationally shows that a shortening of the door-to-balloon time of 10 min results in lower in-hospital mortality by 8%, as well as lower mortality after six months by as much as 6% (Lancet 2015, ePub). Patients who undergo catheter intervention at the early stage experience less damage to their heart and the time of discharge can be earlier. Therefore, this system is useful for their early reintegration to society.
In Tokachi subprefecture, municipal hospitals are located reasonably far away from the foundation hospital in Obihiro city, where cardiovascular treatment can be provided, and it takes quite a long time to transport patients even by ambulance. Therefore, an accurate diagnosis is necessary to quickly transport those who need treatment. In the verification study in cooperation with Hokuto Hospital and distant municipal hospitals (5 institutions in Tokachi subprefecture), an ECG was transmitted from the patient's site using the system, and physicians in Hokuto Hospital checked the ECG data and made a diagnosis, then contacted distant municipal hospitals to give instructions about the patient's transportation. This system was useful for accurate assessment of the urgency to determine whether the patient had to be transported.
Electronic health and medical data have been obtained and managed dispersedly in terms of time and space. At the Department of Ubiquitous Health Informatics, we have been establishing a new health informational space to virtually integrate these data using mobile devices, such as a cell phone and wireless LAN terminal, as well as an information network for a cell phone and other devices. We are also conducting studies to verify this new project. We aim to establish a better medical environment by advancing research and development on various systems, including a mobile environment to support the self-management of diabetic patients; a mobile environment to support the self-management and recording of dialysis patients; an outpatient guidance system using a cell phone; a personal medical information platform in which each patient can manage their own medical information, such as medical history and medication, using mobile devices; and a mobile-based medication-supporting system to unify the management of both the prescribing information and the compliance information, in addition to the ECG-sharing system.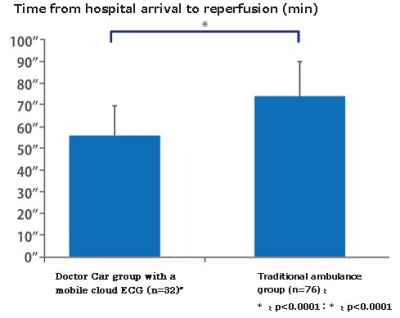 Fig. 3. Doctor Cars with a mobile-based cloud ECG shortened the length of time between hospital arrival and reperfusion (the door-to-balloon time) from 74 min to 56 min on average, compared to traditional systems.