Top > Centers & Services > Clinical Research Services > Translational Research Center
Translational Research Center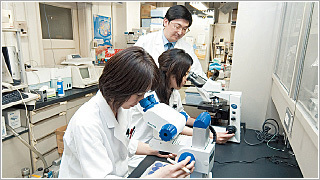 Translational research (TR), the clinical application of basic research findings, has been promoted as strategically important scientific technology. In response to this, the Translational Research (TR) Center was established at the University Hospital in fiscal 2006.
Outline
As some of the world's most advanced research projects have been actively promoted at the University Hospital, a variety of seeds for TR projects have been developed. To form a TR network within the campus and hospital, and to translate accumulated findings obtained from basic research by different departments into clinical trials in a comprehensive and prompt manner, a center that plays a leading role in promoting and supporting TR is essential. For this reason, the TR Center was established to serve as a world-class center to provide consistent support to clinical researchers performing TR.
Major activities
The TR Center provides assistance for the translation of research findings on the pathology, diagnosis, and treatment of disease into clinical settings at the University Hospital. In cooperation with other departments, external organizations and companies, the TR Center is also engaged in identifying research seeds that have the potential for commercialization, matching these seeds with industrial needs, and managing intellectual property. Other activities include the preparation of TR protocol, the provision of information to researchers, and the provision of information in and out of the University. The TR center also provides cell processing center which is a facility compliant with the PMD act. The University Hospital promotes The Translational Research Program; Strategic PRomotion for practical application of INnovative medical Technology (TR-SPRINT) as a base for Project of Translational and Clinical Research Core Center, aiming at the practical application of innovative seeds by the Research grant for Clinical Application of Innovative medical seeds following the Translational Research Program. These projects are funded by Japan Agency for Medical and Development (AMED). The TR Center supports applications for these large-scale grants for these projects as well as supporting translational research activities.