Top > Centers & Services > Clinical Research Services > Cooperative Unit of Medicine and Engineering Research
Cooperative Unit of Medicine and Engineering Research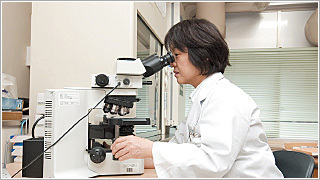 This special unit was established to provide new research education through an interdisciplinary approach, combining medicine, engineering, and pharmaceuticals, aiming to develop new next-generation medical technology applying advanced life science.
Research projects
This unit plays a key role in the promotion of research in medical engineering on the Hongo campus. Various projects undertaken by researchers from hospital departments and researchers specializing in engineering and pharmaceuticals at the University of Tokyo are ongoing.
Research policy
The focus is on integrating the seeds of engineering and science with the needs of clinical settings.
Research areas
Research and development projects using various technologies and methods in robotics, bioscience, material engineering, nanotechnology, and information technology have been and are being conducted, producing many successful outcomes.
Departments/Divisions
Department of Cardiovascular Surgery & Department of Cooperative Unit of Medicine and Engineering Research
Titles
M.D. , Ph.D.
Expertise/Specialties
Adult Cardiac Surgery, Minimally Invasive Cardiac Surgery, Robotic Cardiac Surgery, Mitral Valve Plasty, Off-pump Coronary Artgery Bypass Surgery, Ventricular Assist Device, Heart Transplantation
Research Interests
Surgical Treatment of End-stage Heart Failure (Ventricular assist device, Heart transplantation, Mitral complex plasty), Device Development for Minimally Invasive Surgery, Regenerative Medicine
Languages
Japanese/English