Top > Centers & Services > Clinical Division > Pediatrics
Pediatrics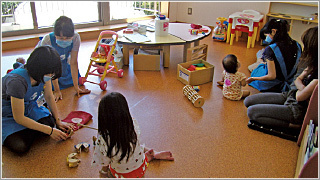 The Department of Pediatrics provide healthcare services for physical and mental conditions in children from infancy through adolescence. Children in growing stages from birth to 20 years of age are prone to being affected genetically and environmentally, and new concerns are emerging along with changes in the society. For any concern about your child, please consult a pediatrician for advice.
Our services
Our department provides comprehensive medical care for a whole range of diseases, including neonatal disorders, cardiac disease, hematologic malignancies and oncologic disorders, neuromuscular disease, renal disease, endocrine disease and allergic disease. Critically ill patients are offered intensive medical care in the pediatric ICU by specialized medical providers. Around-the-clock urgent care services are also available.
Our policy
We work in teams committed to each child admitted in our department. Treatment policies are discussed and considered in conferences reflecting opinions of staff members that specialize in each area reviewing each case from many aspects prioritizing on the minimally invasive of all possible options.
Specialties
Neonates
The neonatologist team provides care for extremely low birth weight infants and neonates with congenital abnormalities.
Cardiac diseases
The cardiac team offers treatments for a whole range of cardiac disorders including severe congenital heart defects. We provide services collaborating closely with staffs from the Department of Cardiovascluar Surgery and are proud of being one of the top ranking hospitals in Japan for surgery performances.
Hematology/Oncology
As a pioneer in the treatments of childhood cancer, the department of pediatric hematology/oncology group has led the way in the innovative therapies for pediatric patients with cancers.
Neuromuscular disease
We are proud of world-class achievements in research and clinical care of children with neuromuscular diseases in both diagnosis and treatment. Fukuyama muscular dystrophy and acute necrotizing encephalopathy were discovered by members of our team.
Renal disease
Our team has accomplished world-class achievements in diagnosis and treatment of chronic nephritis and renal tubular dysfunction, and has contributed significantly to elucidating the causes of Dent disease, renal tubular acidosis and renal hypouricemia.
Endocrine disease
Our team has accomplished outstanding results that have been recognized internationally for diagnosis and treatment of hormone abnormality and diabetes, as well as researches for the cause of rickets.
Ranges we cover
Extremely premature infants, congenital abnormalities, congenital heart disease, Kawasaki disease, leukemia, lymphoma, neuroblastoma, acute encephalopathy, epilepsy, hereditary neurodegenerative disease, chronic glomerulonephritis, nephrotic syndrome, Dent disease, growth disorder, endocrine disease, diabetes, allergic disease, infectious disease.
Advanced treatments/ Specialized treatments
Transplantation
Genetic diagnosis
Cancer predisposition syndrome, hereditary renal disease, endocrinological disease, neuromuscular disorder, congenital anomaly
Fetal ultrasound examination
Frequently performed tests and descriptions
Outpatients
Ultrasonography: Heart, kidney, etc.
Electroencephalography (EEG): Epilepsy
Bone marrow aspiration: Hematologic malignancy
Inpatients
Cardiac catheterization: Heart diseases
Renal biopsy: Chronic glomerulonephritis
Bronchofiberscopy: Bronchial malformation
Endocrine stress test
Long-term EEG/ Video monitoring: Epilepsy, acute encephalopathy
MRI, SPECT, PET: Neurological disorder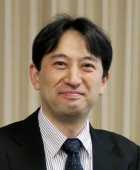 Departments/Divisions
Pediatrics
Titles
M.D., Ph.D.
Expertise/Specialties
Pediatric hematolog, Pediatric oncology, Hematopoietic cell transplantation, Genomic medicine
Research Interests
Cancer genomics
Languages
Japanese, English
Major diseases and numbers of inpatients treated
| | Disease name | Number of inpatients |
| --- | --- | --- |
| | | |
| --- | --- | --- |
| 1 | Hematologic and malignant tumors | 221 |
| | | |
| --- | --- | --- |
| 2 | Neuromuscular diseases | 151 |
| | | |
| --- | --- | --- |
| 3 | Cardiovascular diseases | 168 |
| | | |
| --- | --- | --- |
| 4 | Newborns and immature infants | 417 |
| | | |
| --- | --- | --- |
| 6 | Respiratory diseases | 106 |
| | | |
| --- | --- | --- |
| 7 | Gastrointestinal diseases | 23 |
| | | |
| --- | --- | --- |
| 8 | Allergic and immunological diseases | 30 |
| | | |
| --- | --- | --- |
| 10 | Endocrine and metabolic diseases | 17 |
Diseases selectively treated in this department and treatment and examination methods for them
Malignant tumors such as leukemia, the neuroblastoma
Blood disorder including aplastic anemia
Congenital heart disease
Myocardial diseases
Convulsive diseases
Congenital metabolic and neurodegenerative disorders
Muscle diseases
Hemolytic uremic syndrome
Renal diseases
Newborn and immature infant diseases
Endocrine disorders, such as short stature
Diabetes
Allergic and immunodeficiency diseases
Collagen disease
Bronchial and pulmonary diseases
Numbers of major operations and treatments performed
| | Name of operation/treatment | Number |
| --- | --- | --- |
| | | |
| --- | --- | --- |
| 1 | Cardiac catheterization | 29 |
| | | |
| --- | --- | --- |
| 2 | Hematopoietic stem cell transplantation | 10 |
| | | |
| --- | --- | --- |
| 3 | Peritoneal dialysis and blood purification therapy | 2 |
Numbers of major and specialized examinations conducted in this department
| | Name of examination | Number |
| --- | --- | --- |
| | | |
| --- | --- | --- |
| 1 | Cardiac catheterization | 142 |
| | | |
| --- | --- | --- |
| 2 | Bone marrow examination | 107 |
| | | |
| --- | --- | --- |
| 3 | Fetal echocardiography | 70 |
| | | |
| --- | --- | --- |
| 4 | Long-term electrocardiography | 57(simultaneous video recording:47) |
| | | |
| --- | --- | --- |
| 6 | Endocrine function test | 20 |