Top > Centers & Services > Clinical Services > Otorhinolaryngology and Head and Neck Surgery
Otorhinolaryngology and Head and Neck Surgery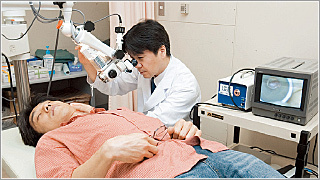 Otorhinolaryngology and Head and Neck Surgery provides diagnoses and treatments for disorders of ears, nose, throat and neck in patients of all ages, including both medical and surgical patients. An emphasis is placed on an individual patient-oriented approach, providing detailed explanations and meeting patient needs.
Medical services
Approximately 30 physicians provide general outpatient services in the morning and specialized outpatient services in the afternoon three days per week. An appointment is required for consultation. Seven hundred cases of surgeries for ear, nose, voice and swallowing disorders, and head and neck tumors are performed annually.
Diagnosis and treatment policy
Both at general and specialized outpatient clinics, professors, associate professors, lecturers, assistant professors, young medical staff, and interns discuss individual cases to determine treatment plans. High quality and holistic care is provided.
Specialties
Hearing impairment
In patients from infants to adults. Surgery for middle ear disorders, instructions regarding the use and care for a hearing aids for perceptive deafness, cochlear implant surgery.
Dizziness
Detailed examination, diagnosis, rehabilitation, medical therapy
Head and neck cancer
A combination of chemotherapy, radiotherapy, surgical therapy, and cancer immunotheraphy is used so as to conserve function.
Voice and swallowing disorders
Diagnosis, rehabilitation and surgery
Chronic sinusitis
Examination, diagnosis, surgery
Target diseases
Sudden hearing loss, low-tone sensorineural hearing loss, Meniere's disease, acoustic tumors, age-related hearing loss, hereditary deafness, otosclerosis, chronic otitis media, aural atresia, microtia, central hearing loss, allergic rhinitis, chronic sinusitis, postoperative paranasal sinus cysts, nasal and paranasal sinus tumors, ear and temporal bone tumors, tongue cancer, pharyngeal cancer, laryngeal cancer, thyroid tumor, salivary gland tumors, Bell's palsy, benign paroxysmal postural vertigo (BPPV), vestibular neuronitis, vocal cold polyp, recurrent nerve paralysis, dysphonia, dysphagia
Advanced treatments/ Specialized treatments
Cochlear implant surgery (including EAS:Electric Acoustic Stimulation)
Vibrant SoundbridgeR, BahaR Bone Conduction Implant
TEES:Transcanal Endoscopic Ear Surgery
Skull base surgery (including transnasal endoscopic surgery)
ELPS:Endoscopic Laryngo-Pharyngeal Surgery
Surgery for improving function of swallowing and Surgery to prevent aspiration
Functional surgery of the larynx (framework surgery)
Clinical Oncology in consideration of biomarkers for head and neck cancer (including cancer immunotheraphy)
Frequently performed tests
Standard pure-tone audiometry, standard speech audiometry, conditioned orientation response (COR) audiometry, auditory brainstem response (ABR), and otoacoustic emissions (OAE) are performed in combination for patients ranging in age from babies to the elderly.
ENG (electronystagmogran): Eye-movement tests in patients with dizziness
ENoG (Electroneuronography): neurophysiologic evaluation of facial nerve palsy
Ultrasound examination: Examination for tumors
T & T olfactometry and intravenous olfactometry (Alinamin® test): Tests for smell sensation
Laryngeal endoscopy: evaluation of vocal cord polyp and tumor
Swallowing videofluorography: evaluation of functional swallowing condition with X-ray illumination
Departments/Divisions
Otorhinolaryngology and Auditory and Voice Surgery
Titles
M.D. , Ph.D.
Expertise/Specialties
Otology, Audiology, Neurotology
Research Interests
Cochlear implant, hearing loss, regeneration, anti-aging
Languages
Japanese, English
Major diseases and number of new patients treated in this department
| | Disease name | Number of new patients |
| --- | --- | --- |
| | | |
| --- | --- | --- |
| 1 | Chronic otitis media and otitis media involving cholesteatoma | 70 |
| | | |
| --- | --- | --- |
| 2 | Pediatric hearing loss | 100 |
| | | |
| --- | --- | --- |
| 3 | Facial nerve paralysis | 112 |
| | | |
| --- | --- | --- |
| 6 | Hypopharyngeal cancer | 42 |
| | | |
| --- | --- | --- |
| 7 | Oral cavity and oropharyngeal cancer | 40 |
| | | |
| --- | --- | --- |
| 8 | Vocal cord polyps and nodules | 14 |
Areas of expertise, treatment and examination methods
Diseases
Chronic otitis media and otitis media involving cholesteatoma
Congenital hearing loss
External auditory canal atresia
Chronic sinusitis
Olfactory disorders
Oral cavity and pharyngeal cancer
Vocal cord paralysis
Dysphagia
Treatment methods
Tympanoplasty
Cochlear implant surgery
External auditory canal plasty with the perforator flaps
Endoscopic sinus surgery (navigation)
Transoral partial laryngopharyngectomy
Reconstruction with the free muscle flaps
Combined chemoradiation therapy
Surgical procedures for voice restoration
Swallowing surgery
Examination methods
ABR
Pediatric hearing loss assessment
Facial nerve examination
Balance function test
Narrow band imaging (NBI)
Swallowing function assessment
Swallowing reflex test
Numbers of major surgeries performed in this department
| | | |
| --- | --- | --- |
| 2 | Cochlear implant surgery | 44 |
| | | |
| --- | --- | --- |
| 4 | Endoscopic sinus surgery | 111 |
| | | |
| --- | --- | --- |
| 5 | Surgery for oral cavity, oropharyngeal, hypopharyngeal and laryngeal cancer | 71 |
| | | |
| --- | --- | --- |
| 6 | Surgery for tumot of paranasal sinus | 15 |
| | | |
| --- | --- | --- |
| 7 | Parotid and submandibular gland surgery | 36 |
| | | |
| --- | --- | --- |
| 9 | Arytenoid adduction surgery and thyroplasty | 14 |
Numbers of major examinations conducted in this department
| | Name of examination | Number |
| --- | --- | --- |
| | | |
| --- | --- | --- |
| 1 | Standard pure-tone audiometry | 4,833 |
| | | |
| --- | --- | --- |
| 2 | Standard speech audiometry | 830 |
| | | |
| --- | --- | --- |
| 3 | Conditioned orientation reflex (COR) audiometry | 756 |
| | | |
| --- | --- | --- |
| 4 | Tympanometry and stapes reflex measurement | 870 |
| | | |
| --- | --- | --- |
| 5 | ABR, DPOAE, and SOAE | 562 |
| | | |
| --- | --- | --- |
| 7 | Videofluorography (esophagography) for swallowing | 752 |