Top > Centers & Services > Clinical Divisions and Departments > Ophthalmology
Ophthalmology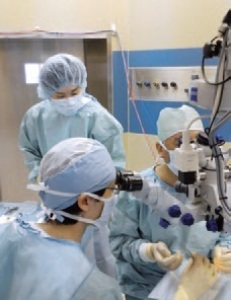 The Department of Ophthalmology specializes in an extensive range of ocular diseases such as cataracts, glaucoma, vitreoretinal disease, corneal disease, uveitis, neuroophthalmologic disease, strabismus, lacrimal disorders, and eye tumors.
Medical services
The outpatient clinic provides care in specialized therapeutic areas including glaucoma, macula, retinal detachment, diabetic retinopathy, hereditary retinal disorder, keratoconjunctiva, uvea, neuroophthalmology, strabismus/amblyopia, lacrimal duct disorders, and low vision. Patients with cataracts are also treated by specialists in those areas.
Diagnosis and treatment policy
Treatment plans for inpatients are discussed and determined at weekly ward conferences in which all assistant professors in charge of the ward participate and during rounds headed by a professor and an associate professor. Treatment plans for outpatients are determined based on discussion between the doctor in charge of outpatient services and professors, associate professors, lecturers, or specialists in the outpatient clinic.
Specialties
Cornea
In addition to corneal transplant, surgery using the patient's own corneal cells and oral mucosal cells can also be performed to treat severe eye surface problems such as alkali burn.
Glaucoma
The department develops advanced drug therapy for normal tension glaucoma, and selects surgical options according to each patient's condition. Treatment for refractory glaucoma has been given to many patients.
Macula
The most advanced drug therapy, laser treatment such as photodynamic therapy, and surgical therapy are frequently performed to treat macular disease such as age-related macular degeneration.
Voice and swallowing disorders
From surgery to rehabilitation
Retinal detachment
The optimal surgical procedure is selected according to the condition of the disease. Surgery for special cases accompanying trauma and atopic dermatitis is also available.
Lacrimal duct
An endoscopic procedure for silicone tube placement and other surgical procedures are performed for nasolacrimal duct obstructions.
Target diseases
Cataract, glaucoma, retinal detachment, age-related macular degeneration, epimacular membrane, macular hole, retinal vein occlusion, keratoconjunctival disorder, diabetic retinopathy, retinitis pigmentosa, uveitis, optic nerve disease, ophthalmoplegia, strabismus, nasolacrimal duct obstructions
Advanced treatments/ Specialized treatments
Human aminiotic membrane transplantation
DSEAK
Descemet's Stripping Automated Endothelial Keratoplasty
MIVS
Micro-incision vitrectomy surgery
Laser anastomosis of nasolacrimal duct
Surgery for nasolacrimal duct obstructions
Frequently performed tests
Visual acuity test/ fundus test
Slit-lamp microscopy: Examination of cornea and cataract
Detailed funduscopy: Examination of disorders at the back of an eye
Perimetry: Visual field examination
Fundus three-dimensional image analysis
Fluorescein fundus angiography: Detection of vascular abnormalities at the back of an eye using a contrast agent
Numbers of in- and outpatients treated in this department
| | |
| --- | --- |
| Total: 2,058 | Daily mean:2,684 |
| | |
| --- | --- |
| Daily mean: 36.7 | Monthly mean (new patients) : 50,216 |
| | |
| --- | --- |
| | Imcoming referral rate: 96.4% |
| | |
| --- | --- |
| | Outgoing referral rate:120.1% |
Numbers of major operations and treatments performed
| | Name of inpatient surgery | Number |
| --- | --- | --- |
| | | |
| --- | --- | --- |
| 2 | Vitreoretinal surgery | 403 |