Top > Centers & Services > Clinical Services > Hematology and Oncology
Hematology and Oncology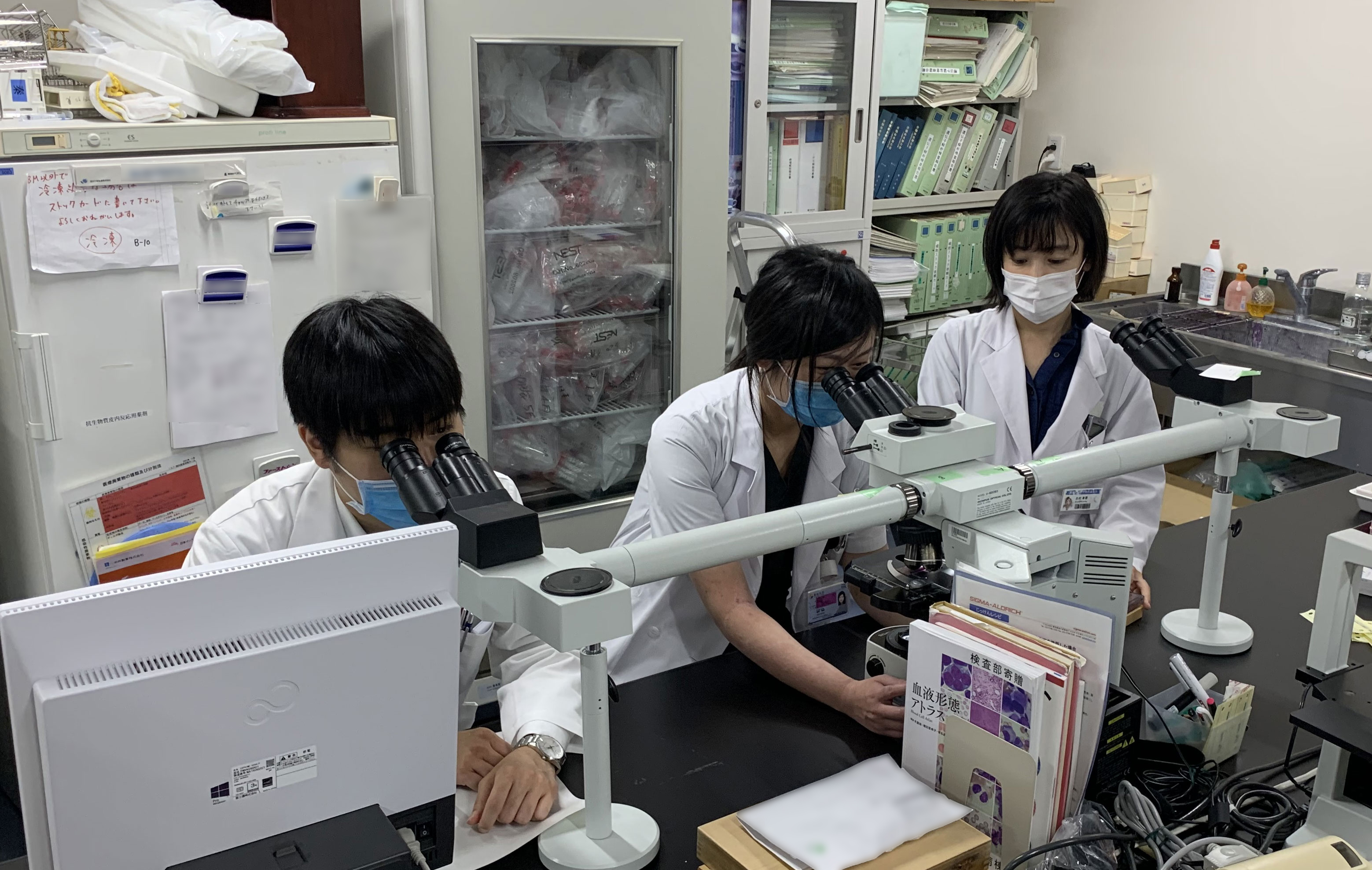 The Department of Hematology and Oncology provides medical services for patients with various blood disorders, including anemia and thrombocytopenia, and neoplastic disorders such as leukemia and malignant lymphoma.
Medical services
Outpatient services are available each morning and afternoon on weekdays. The department has a constant inpatient load of approximately 60 patients who receive combined modality therapy including stem cell transplantation in cooperation with the Department of Cell Therapy and Transplantation Medicine.
Diagnosis and treatment policy
With the utmost emphasis placed on providing medical care that satisfies patients, staff and patients discuss treatment together to make it holistic. Individual cases are discussed by the entire staff to select the most effective treatment and achieve advanced medical care.
Specialties
The department has well-established experience in applying combined modality therapy including chemotherapy and transplantation in treating leukemia, malignant lymphoma, and other malignant tumors.
Target diseases
Almost all hematological diseases including acute leukemia, chronic myelogenous/lymphocytic leukemia, adult T-cell leukemia-lymphoma, polycythemia vera, essential thrombocythemia, primary myelofibrosis, myelodysplastic syndrome, malignant lymphoma, multiple myeloma, aplastic anemia, hemolytic anemia, idiopathic thrombocytopenic purpura, hemophilia.

Advanced treatments/ Specialized treatments
DNA diagnosis of hematopoietic tumors
Based on the latest findings, the department has adopted genetic analysis using the nucleic acid amplification testing (PCR) method with the cooperation of the Department of Clinical Laboratory. The results of various analyses are used for diagnosis, selection of treatment methods and early detection of recurrence of after treatment.
Autologous and allogeneic hematopoietic stem cell transplantation
Hematopoietic stem cell transplantation is a treatment in which hematopoietic stem cell collected from patients themselves or from donors are infused after chemotherapy or radiation therapy. In addition to aiming for a cure through transplantation, the department has established an outpatient follow-up clinic to manage various complications that may occur after transplantation in cooperation with nurses and pharmacists.
Transplantation in elderly recipients
The indications for allogeneic hematopoietic stem cell transplantation in the elderly used to be limited due to side effects and complications, but they are expanding with the advancement in supportive care and non-myeloablative allogeneic stem cell transplant (mini-transplants). The department actively performs allogeneic hematopoietic stem cell transplantation in patients over 65 years old to improve the prognosis of the disease.

State-of-the-art treatment for malignant lymphoma
Treatment methods and drugs for malignant lymphoma have undergone significant updates in recent years and the treatment of CNS lymphoma is one of them. Malignant lymphoma originating from the central nervous system (brain and spinal cord) is known to be refractory to treatment and has a poor prognosis. The department provides a number of treatments, including autologous transplants, to improve the prognosis.

HLA-haploidentical transplant
Conventional hematopoietic stem cell transplants require that the blood types known as HLA match at least 90 percent, and it can be time-consuming to find a match. In recent years, the development of transplant management methods has made it possible to perform transplants from donors whose HLA is half-matched. Called haploidentical transplantations, the department performs this procedure for patients who require it to overcome a disease.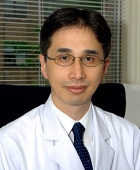 Departments/Divisions
Department of Hematology and Oncology, Department of Cell Therapy and Transplantation Medicine
Titles
M.D. , Ph.D.
Expertise/Specialties
Hematological malignancies
Research Interests
Leukemia
Languages
Japanese, English
Major diseases treated in this department and numbers of in- and outpatients
| | Disease name | Number of inpatients | Number of outpatients |
| --- | --- | --- | --- |
| | | | |
| --- | --- | --- | --- |
| 1 | Acute leukemia | 43 | 1,078 |
| | | | |
| --- | --- | --- | --- |
| 2 | Chronic myelogenous leukemia | 2 | 873 |
| | | | |
| --- | --- | --- | --- |
| 3 | Myelodysplastic syndrome | 27 | 983 |
| | | | |
| --- | --- | --- | --- |
| 4 | Malignant lymphoma | 172 | 4,374 |
| | | | |
| --- | --- | --- | --- |
| 5 | Multiple myeloma | 22 | 582 |
Total numbers of patients in 2015
Areas of expertise, treatment and examination methods
Diseases
Acute leukemia
Malignant lymphoma
Myelodysplastic syndrome
Chronic myeloid leukemia
Multiple myeloma
Aplastic anemia
ITP (idiopathic thrombocytopenic purpura)
Erdheim-Chester disease
Treatment methods
Multi-drug chemotherapy
Allogeneic peripheral blood stem cell transplantation
Allogeneic bone marrow transplantation
Autologous peripheral blood stem cell transplantation
Umbilical cord blood transplantation
Immunosuppressive therapy
Molecular-targeted therapy
Antibody Medicine
Examination methods
Marrow puncture
Lymph node biopsy
Cell surface antigen analysis using flow cytometry (bone marrow and lymph nodes)
Genetic diagnosis (detection and monitoring of genetic abnormalities due to hematologic diseases)
Diagnostic imaging, such as CT and FDG-PET
Numbers of major operations and treatments performed
| | Name of operation/treatment | Number |
| --- | --- | --- |
| | | |
| --- | --- | --- |
| 1 | Allogeneic bone marrow transplantation | 11 |
| | | |
| --- | --- | --- |
| 2 | Autologous peripheral blood stem cell transplantation | 12 |
| | | |
| --- | --- | --- |
| 3 | Umbilical cord blood transplantation | 1 |
Numbers of major and specialized examinations conducted in this department
| | Name of examination | Number |
| --- | --- | --- |
| | | |
| --- | --- | --- |
| 1 | Bone marrow examination | 800 |