Top > Centers & Services > Clinical Divisions and Departments > Hematology and Oncology
Hematology and Oncology
The Department of Hematology and Oncology provides medical services for patients with various blood disorders, including anemia and thrombocytopenia, and neoplastic disorders such as leukemia and malignant lymphoma
Medical services
Outpatient services are available each morning and afternoon on weekdays. The department has a constant inpatient load of approximately 60 patients who receive combined modality therapy including stem cell transplantation in cooperation with the Department of Cell Therapy and Transplantation Medicine.
Diagnosis and treatment policy
With the utmost emphasis placed on providing medical care that satisfies patients, staff and patients discuss treatment together to make it holistic. Individual cases are discussed by the entire staff to select the most effective treatment and achieve advanced medical care.
Specialties
The department has well-established experience in applying combined modality therapy including chemotherapy and transplantation in treating leukemia, malignant lymphoma, and other malignant tumors.
Target diseases
Acute leukemia, chronic myeloid leukemia, chronic lymphocytic leukemia, adult T-cell leukemia, polycythemia vera, essential thrombocythemia, primary myelofibrosis, myelodysplastic syndrome, malignant lymphoma, multiple myeloma, aplastic anemia, hemolytic anemia, idiopathic thrombocytopenic purpura, hemophilia, and other hematological disorders.

Advanced treatments/ Specialized treatments
DNA diagnosis of hematopoietic tumors
The Department of Hematology and Oncology performs various gene mutation analyses based on the latest findings to select the most effective diagnostic and treatment methods. In the post-treatment course, we make full use of the polymerase chain reaction (PCR) method of nucleic acid amplification in genetic diagnosis for the early detection of residual diseases.
Autologous/ allogeneic hematopoietic stem cell transplantation (bone marrow/ peripheral blood stem cell, umbilical cord blood)
In autologous hematopoietic stem cell transplantation, hematopoietic stem cells in patients who have undergone chemotherapy are collected from the peripheral blood or bone marrow and frozen to be injected after subsequent high-dose chemotherapy. Allogeneic transplantation, a procedure in which hematopoietic stem cells obtained from a donor other than the patient are transplanted after high-dose chemotherapy and/ or radiation therapy, is also performed if the patient's condition permits. We provide follow-up care and support to post-transplant patients in the specialty outpatient clinic. The staff mainly consists of hematologists, nurses, and pharmacists, and makes efforts for the management of transplant related complications (e.g., chronic graft versus host diseases).
Transplantation in elderly patients
Allogeneic hematopoietic stem cell transplantation is a very effective procedure by which the disease itself may also be treated. Application has, however, been limited for elderly patients due to adverse effects and complications associated with high-dose chemotherapy and radiation therapy. In recent years, the establishment of nonmyeloablative allogeneic hematopoietic stem cell transplantation (also called "mini-transplant") and advances in supportive therapy have helped expand application for elderly patients. Our department currently performs allogeneic hematopoietic stem cell transplantation for patients aged 55 to 60 and above, after obtaining approval from the Ethics Committee, with the aim of improving outcomes.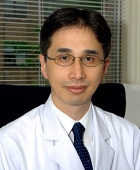 Departments/Divisions
Department of Hematology and Oncology
Titles
M.D. , Ph.D.
Expertise/Specialties
Hematological malignancies
Research Interests
Leukemia
Languages
Japanese, English
Major diseases treated in this department and numbers of in- and outpatients
| | Disease name | Number of inpatients | Number of outpatients |
| --- | --- | --- | --- |
| | | | |
| --- | --- | --- | --- |
| 1 | Acute leukemia | 43 | 1,078 |
| | | | |
| --- | --- | --- | --- |
| 2 | Chronic myelogenous leukemia | 2 | 873 |
| | | | |
| --- | --- | --- | --- |
| 3 | Myelodysplastic syndrome | 27 | 983 |
| | | | |
| --- | --- | --- | --- |
| 4 | Malignant lymphoma | 172 | 4,374 |
| | | | |
| --- | --- | --- | --- |
| 5 | Multiple myeloma | 22 | 582 |
Total numbers of patients in 2015
Areas of expertise, treatment and examination methods
Diseases
Acute leukemia
Malignant lymphoma
Myelodysplastic syndrome
Chronic myeloid leukemia
Multiple myeloma
Aplastic anemia
ITP (idiopathic thrombocytopenic purpura)
Erdheim-Chester disease
Treatment methods
Multi-drug chemotherapy
Allogeneic peripheral blood stem cell transplantation
Allogeneic bone marrow transplantation
Autologous peripheral blood stem cell transplantation
Umbilical cord blood transplantation
Immunosuppressive therapy
Molecular-targeted therapy
Antibody Medicine
Examination methods
Marrow puncture
Lymph node biopsy
Cell surface antigen analysis using flow cytometry (bone marrow and lymph nodes)
Genetic diagnosis (detection and monitoring of genetic abnormalities due to hematologic diseases)
Diagnostic imaging, such as CT and FDG-PET
Numbers of major operations and treatments performed
| | Name of operation/treatment | Number |
| --- | --- | --- |
| | | |
| --- | --- | --- |
| 1 | Allogeneic bone marrow transplantation | 11 |
| | | |
| --- | --- | --- |
| 2 | Autologous peripheral blood stem cell transplantation | 12 |
| | | |
| --- | --- | --- |
| 3 | Umbilical cord blood transplantation | 1 |
Numbers of major and specialized examinations conducted in this department
| | Name of examination | Number |
| --- | --- | --- |
| | | |
| --- | --- | --- |
| 1 | Bone marrow examination | 800 |