Top > Centers & Services > Clinical Divisions and Departments > Gastroenterology
Gastroenterology
The Department of Gastroenterology specializes in the treatment of disorders of the esophagus, stomach, intestines, liver, gallbladder, pancreas, and other organs of the digestive system.
Medical services
Approximately 80 specialists work together in this department to treat diseases, mainly cancers, of the esophagus, stomach, large intestine, liver, gallbladder, bile duct and pancreas; and other particularly intractable diseases such as hepatitis, pancreatitis and inflammatory bowel disease.
Diagnosis and treatment policy
"Patient-oriented, non-invasive treatment" is our motto. Aiming to achieve maximum outcomes with minimally-invasive approaches, the department adopts a team approach to care for patients with refractory cancer and other intractable diseases. Efforts are focused on treating not only the disease but the patient as a whole.
Specialties
Radiofrequency ablation (RFA) of liver cancer
Endoscopic resection of esophageal, stomach, colorectal cancer
Stenting plus anticancer chemotherapy for pancreatic and biliary cancer
Endoscopic treatment for biliary and pancreatic stones
Extracorporeal shock wave lithotripsy for pancreatic stones
Treatment of NASH, hepatitis B, C, and Helicobacter pylori infection
Endoscopic diagnosis and treatment of the small intestine
Target diseases
Hepatitis, cirrhosis, liver cancer, metastatic liver cancer, esophagitis, esophageal cancer, esophageal varix, gastritis, gastric ulcer, gastric cancer, duodenal ulcer, colonic polyp, colon cancer, gallstone, bile duct stone, cholecystitis, gallbladder cancer, pancreatic stone, autoimmune pancreatitis, acute and chronic pancreatitis, bile duct cancer, pancreatic cancer, obstructive jaundice.
Advanced treatments/ Specialized treatments
Radiofrequency ablation (RFA) of primary liver cancer and metastatic liver cancer
Endoscopic resection of stomach, colon, and esophageal cancer (endoscopic submucosal dissection: ESD)
Endoscopic ultrasound (EUS)-guided biliary, pancreatic, and abscess drainage

Balloon endoscope-assisted ERCP for surgically altered anatomy
FOLFIRINOX for biliary tract cancer
Endoscopic examination of the entire small intestine (double balloon small intestinal endoscopy, capsule endoscopy) Endoscopic examination and treatment of the small intestine, which was once referred to as the "Dark Continent
Clinical trials for new drugs for liver cancer, pancreatic cancer, colon cancer, biliary tract cancer, and hepatitis B and C
Frequently performed tests and descriptions
Outpatients
Abdominal ultrasound examination : gallbladder, pancreas, kidney, spleen, lymph node
Upper endoscopy (gastroscopy) : esophagus, stomach, duodenum
Lower endoscopy (colonoscope) : colon and rectum
Endoscopic ultrasound (EUS) examination for the stomach, duodenum, pancreas, gallbladder, etc.
Fibro scan : a new ultrasound scanning technique that measures the stiffness of the liver in place of needle biopsy to check cirrhosis
Inpatients
Examinations are performed mainly on an outpatient basis, and patients requiring treatment are hospitalized.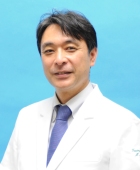 Departments/Divisions
Department of Gastroenterology
Titles
M.D. , Ph.D., FJGES
Expertise/Specialties
Internal Medicine, Gastroenterology, Gastrointestinal tract diseases, Gastrointestinal endoscopy (diagnosis and treatment)
Research Interests
Pathogenesis in the gastrointestinal diseases, Gastrointestinal endoscopy, Big data science, Artificial intelligence
Languages
Japanese / English
Major diseases and numbers of inpatients treated
| | | |
| --- | --- | --- |
| 1 | Hepatocellular and metastatic hepatic cancer | 681 |
| | | |
| --- | --- | --- |
| 2 | Hepatitis and cirrhosis | 117 |
| | | |
| --- | --- | --- |
| 3 | Pancreatic, bile duct, and gallbladder cancer | 572 |
| | | |
| --- | --- | --- |
| 4 | Gastric, esophageal, and colon cancer and colon polyps | 576 |
| | | |
| --- | --- | --- |
| 5 | Pancreatic stones and chronic pancreatitis | 69 |
| | | |
| --- | --- | --- |
| 6 | Choledocholithiasis | 285 |
Areas of expertise, treatment and examination methods
Treatment methods
Radiofrequency ablation for liver cancer
New antiviral therapy for viral hepatitis
Endoscopic submucosal dissection for gastrointestinal cancer
Extracorporeal shock wave lithotripsy
Endoscopic papillary balloon dilatation
Endoscopic placement of bile duct and pancreatic stents
Endoscopic ultrasound-guided biliary drainage
Endoscopic treatment for the severe pancreatitis
Anticancer pharmacotherapy for gastrointestinal cancer
Gastric metal stent
Numbers of major operations and treatments performed
| | Name of operation/treatment | Number |
| --- | --- | --- |
| | | |
| --- | --- | --- |
| 1 | Radiofrequency ablation for liver cancer | 401 |
| | | |
| --- | --- | --- |
| 2 | Endoscopic Submucosal Dissection for gastirc, colon or esphageal cancer | 334 |
| | | |
| --- | --- | --- |
| 3 | Endoscopic Sphincterotomy (EST) | 37 |
| | | |
| --- | --- | --- |
| 4 | Endoscopic papillary balloon dilatation(EPBD, EPLBD) | 54 |
| | | |
| --- | --- | --- |
| 5 | Bile duct and pancreatic stent placement | 130 |
| | | |
| --- | --- | --- |
| 6 | Extracorporeal shock wave lithotripsy(ESWL) | 54 |
| | | |
| --- | --- | --- |
| 7 | Percutaneous Transhepatic Biliary Drainage(PTBD,PTGBD) | 75 |
| | | |
| --- | --- | --- |
| 8 | Endoscopic gastrointestinal stenting | 51 |
| | | |
| --- | --- | --- |
| 9 | Chemotherapy (Pancreatic, bile duct or gallbladder cancer) | 250 |
| | | |
| --- | --- | --- |
| 10 | Chemotherapy (Stomach, colon or esopageal cancer) | 56 |
Major diseases treated in this department and numbers of in- and outpatients
| | Name of examination | Number |
| --- | --- | --- |
| | | |
| --- | --- | --- |
| 1 | Abdominal ultrasonography | 12,720 |
| | | |
| --- | --- | --- |
| 2 | Upper gastrointestinal endoscopy | 11,874 |
| | | |
| --- | --- | --- |
| 3 | Lower gastrointestinal endoscopy | 6,383 |
| | | |
| --- | --- | --- |
| 4 | Capsule and balloon endoscopy for small intestine | 321 |
| | | |
| --- | --- | --- |
| 5 | ERCP: Endoscopic retrograde cholangio-pancreatography | 904 |
| | | |
| --- | --- | --- |
| 6 | Ultrasound-guided hepatic tumor biopsy | 131 |
| | | |
| --- | --- | --- |
| 7 | Endoscopic ultrasound | 577 |