Top > Centers & Services > Central Clinical Services > Tissue Bank
Tissue Bank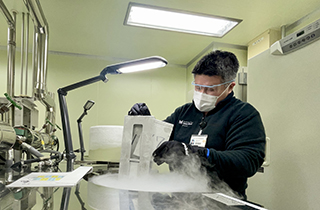 The tissue bank handles cardiac arrest and brain death donor information on a 24-7-365 basis, and is responsible for the extraction and conservation management of homograft cardiac valve and blood vessels. Moreover, we provide tissues to medical organizations around the country, including The University of Tokyo Hospital, for patients that require tissue transplantation. Additionally, we have started to preserve and provide allograft bones since 2018. Dissemination and educational activities for the advancement of medical transplantation is also an important mission.
Outline
Tissue extraction is carried out by a team of surgeons after a transplantation coordinator certified by the Japan Society of Tissue Transplantation (JSTT) explains tissue donation to the donor's family, and obtains their consent. The donated tissue undergoes preservation work in a clean room and is stored under strict roundthe- clock computerized management, so that it may be transplanted to a patient (recipient) who is deemed to necessitate a tissue transplantation. As a rare tissue bank that handles homograft cardiac valves and vascular tissues in Japan, the department is certified by the JSTT and has the largest number of stored tissues in Japan.
Target diseases
Cardiac valve transplantation
Infectious endocarditis, prosthetic valve infection, aortic valve periannular abscess, some cases of congenital cardiovascular diseases (hypoplastic left heart syndrome, pulmonary artery/aorta reconstruction, etc.), etc.
Vascular transplantation
Aortic vessel transplantation: vascular prosthesis infection, infected aortic aneurysm, Venous vessel transplantation: hepatobiliary tract and pancreas diseases, some cases of congenital cardiac diseases.
Characteristics
[Homograft cardiac valve/vessel]
Excellent resistance to infections : Homograft tissues are cryopreserved in a state in which the cells are alive, and provide higher resistance to infections by bacteria than artificial cardiac valves and vessels.
No need for anticoagulation : It is not always necessary to use coagulants throughout one's life, as in the case of post-replacement of artificial cardiac valves and blood vessels, and it is particularly useful for people who are engaged with strenuous exercise, young children, or women who have a desire to give birth.
Durability : As long as 15 to 20 years. However, re-do operations may be necessary in some cases.
Banking system : In collaboration with other tissue banking facilities in Japan, responds to recovery cases mainly in the Kanto region. Certified cardiac and liver surgeons consists the donor response team. Shipment area covers entire nation.
Statistics : Between its establishment in 1998 to the end of 2020, UTTB has recovered tissue from 255 donors and provided precious grafts to 44 medical institution totaling 957 cases of transplantation.
Honoring the donor : Importance is non-comparable to artificial grafts. Human tissues are recovered from deceased donors. Since donation is rare in Japan, graft supply remains scarce. We honor donor and family members, who decided to give to others in their final moments. It is our mission to maintain and spread this precious and important therapeutic option in Japan.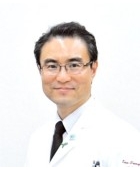 Departments/Divisions
International Medical Center, Tissue Bank, Artificial Organ and Transplantation Surgery
Titles
M.D., Ph.D., F.A.C.S.
Expertise/Specialties
Surgery, Heaptology, Liver Transplantation, Tissue Transplantation, Medical Education
Research Interests
Liver Disease, Liver Trasnplantation, Organ Transplantation, Donor Safety in Living Liver Donor, Tissue Transplantation, Tissue Banking, Cyropreservation of homograft, Medical Education, Surgical Training, Medical Care for Foreign Patients in Japan, Multicultural Resource for Health Care, Cross border clinical medicine
Languages
Japanese / English