Top > Centers & Services > Central Clinical Services > Department of Pathology
Department of Pathology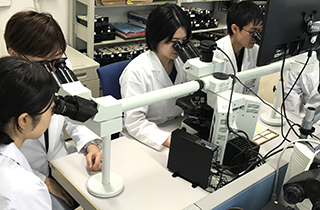 The Department of Pathology provides high-quality diagnostic service for tissue and cell specimens taken by biopsy or surgery. We are also in charge of autopsy service to elucidate pathology and improve the quality of medical care.
Medical services
Fourteen physicians (12 certified pathologists) and 18 full-time technologists (5 full-time cytotechnologists) perform approximately 17,000 tissue diagnoses, 16,000 cytologic diagnoses, 1,500 intraoperative frozen section diagnoses, and 50 autopsy diagnoses per year. A number of weekly or monthly conferences are carried out within the department or with other clinical divisions, aiming to enhance the quality of diagnoses and to promote cooperation within the hospital. Autopsy cases are discussed by many relevant pathologists and clinicians in clinicopathological conference (CPC). The division has started providing pathology service for hospitals without sufficient pathologists ("Regional Cooperation Promotion and Telepathology Center") and also outpatient service to give patients detailed explanation about pathology diagnosis (currently for breast cancer patients). We also play a critical role in cancer precision medicine using clinical sequencing service, by participating expert panel as well as pathological evaluation and preparation of tissue sample for analysis. We are contributing to promoting precision medicine by collecting and delivering tissue samples that help researchers uncover the causes of illness in collaboration with the bioresource center which was established in 2021.
Diagnosis and treatment policy
"Accurate and high quality pathological diagnosis" We consistently provide high-quality diagnoses through consultations and a double check system as well as through case review conferences with each clinical division. Our department plays a leading role in Japan in promoting rapid pathological diagnosis, such as "same day diagnosis" for biopsy specimens.
Specialties
Cancer diagnosis: Gastrointestinal, respiratory, mediastinal, liver, biliary tract and pancreas, breast, bone and soft tissue, lymphoma, brain, gynecology, urinary tract, skin
Diagnosis of organ transplant-associated diseases
Immunohistochemical examination
Molecular genetic testing
Digital pathology, telepathology and remote pathology diagnosis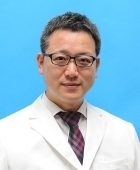 Departments/Divisions
Pathology, BioResource Center
Titles
M.D. , Ph.D.
Expertise/Specialties
Gastrointestinal pathology
Research Interests
The pathology and molecular biology of gastrointestinal tumor
Languages
Japanese, English