Top > Centers & Services > Central Clinical Services > Palliative Care Consultation Team
Palliative Care Consultation Team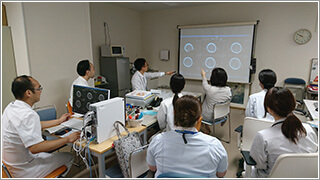 Palliative Care Consultation Team supports patients with cancer in relieving their suffering from the moment they are diagnosed, both for inpatients and outpatients. In cooperation with the patients' attending physicians and ward staff, our team manages not only cancer pain but also physical symptoms such as nausea, vomiting, dyspnoea, insomnia, and psychiatric symptoms such as depression, anxiety and delirium. Our team also provides care to support patients' daily activities and care for families.
Medical services
In response to requests, we, palliative care consultation team visit the bedside. We are the multidisciplinary team consists of doctors, nurses, pharmacists and psychologists. If needed in consultation with patients, their families and other caregivers of them, we can be contacted with them throughout the course of cancer-treatments no matter which they are inpatients or outpatients.
Diagnosis and treatment policy
The first priority is focused on improvement of the quality of life of patients and their families. To achieve this goal, the palliative care consultation team plans a care program that is tailored to each patient. Palliative care is often regarded as only for terminally ill patients. However, according to the declaration by the WHO, our palliative care is a positive form of medical care that should take place from the moment patients are diagnosed with cancer.
Specialties
Pain control, treatment for adverse reactions caused by opioid analgesics, control of nausea, vomiting (including patients receiving chemotherapy) and of dyspnoea, treatment for fatigue, treatment for insomnia,and delirium, treatment and counseling for anxiety and depression, care for lymphatic edema, oral care, various methods for daily care, care for family members, etc.
Target diseases
Cancer, acquired immuno-deficiency syndrome (AIDS) or chronic heart failure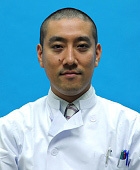 Departments/Divisions
Department of Pain and Palliative Medicine, Palliative Care Consultation Team, Medical Community Network and Discharge Supporting Center
Titles
M.D. , Ph.D.
Expertise/Specialties
Pain Medicine, Palliative Medicine, Anesthesiology, Critical Care Medicine, Medical Engineering
Research Interests
Pain Medicine, Palliative Medicine, Cognitive Neuroscience, Health Literacy
Languages
Japanese