Top > Centers & Services > Central Clinical Services > Nursing Department
Nursing Department
Nursing Department is staffed by more than 1,400 nurses and midwives. We provide care for about 1,200 inpatients and 3,000 outpatients per day.
Missions
To provide the proper nursing care for patients
To train highly competent professionals
To aim at the development of nursing and medicine
Our efforts
The University of Tokyo Hospital is an advanced treatment hospital that provides acute care and advanced medical care. It is for this reason that our nursing department believes in the importance of increasing the human power of healing with "nursing that enhances patients' vitality." To this end, all of our departments have raised their ethical standards and are committed to practicing "nursing that sees, feels, and thinks" that is based on fundamental knowledge and skills.
Educational system for improving ability in nursing practice
Judgment based on good knowledge and evidence, accurate nursing skills, and high ethics are very important in patient care. Seven nurses engaged in nursing education and the nurses in charge of education in each nursing unit leads learning of more than 1,400 nurses. The carrier ladder system supports active learning and development of nurses from beginners to experts. The online training tool "Nursing Skills Japan" supervised by the Department has been used as teaching materials.
Building excellent multidisciplinary working relationships and provides the optimal medical treatment to patients as a team
Medical treatment at university hospitals consists of not only doctors and nurses, but also includes a wide variety of medical professions and occupations that support the medical care of patients. In addition to maximizing the expertise of each profession and providing the optimal medical treatment to each individual patient, we proactively utilize a variety of multi-disciplinary approaches that take full advantage of the personality and characteristics that are unique to a university hospital.
Proactive approach to nursing research
We are committed to promoting nursing research in earnest, one of the roles of university hospitals. In the carrier laddar system, nurses will learn the nursing research step by step, supported by Clinical Nurse Specialists (CNS), Certified Nurses (CN), nurses with master's degree working in the hospital, nurse managers, and teaching staff in the School of Nursing, the University of Tokyo.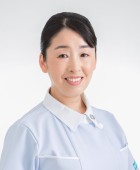 Departments/Divisions
Nursing Department
Titles
R.N., P.H.N., Ph.D, C.N.A.
Expertise/Specialties
Nursing Management
Research Interests
Organizational development, Career development, Healthy work environment
Languages
Japanese

© Copyright 2014 The University of Tokyo Hospital. All Rights Reserved