Top > Centers & Services > Central Clinical Services > Immune-Mediated Diseases Therapy Center
Immune-Mediated Diseases Therapy Center
The Immune-Mediated Diseases Therapy Center (the 12th floor of inpatient buiding B) aims to provide a safer and more ef fective molecularly targeted therapy for immunological diseases with the nurses who work exclusively with our center in cooperation with specialized medical departments.
Medical services
The first consultation is the Immune-Mediated Diseases Therapy Center outpatient clinic every Monday morning. This center provides medical care with physicians from departments that specialize in various immunological diseases (Allergy and Rheumatology, Hematology and Oncology, Gastroenterology, Neurology, Dermatology, Ophthalmology, Orthopaedic Surgery and Spinal Surgery, Colon and Rectal Surgery).
Diagnosis and treatment policy
The number of molecularly targeted drugs that have had a tremendous impact on immunological diseases is increasing every year, and the number of diseases that are subject to such drugs is also increasing. The center coordinates with the specialized departments for each disease, to provide safer and more effective drugs. Detailed studies are carried out at the regularly held "Meeting of Immunemediated disease therapy center".
Specialties
Physicians specializing in molecularly targeted treatments select a safe and ef fective molecularly targeted drug, and support patients to continue the treatment at ease.
Target diseases
Rheumatoid arthritis, systemic lupus erythematosus, ankylosing spondylitis, Behcet's disease (intestinal Behcet's disease, neuro-Behcet's disease, vasculo- Behcet's disease, eye Behcet's disease), psoriasis vulgaris, psoriatic arthritis, pustular psoriasis, erythrodermic psoriasis, Crohn's disease, ulcerative colitis, multiple sclerosis, non-infectious uvetis, angitis, autoinflammatory disease (cryopyrin-associated periodic syndrome, familial Mediterranean fever, TNF receptor-associated periodic syndrome, high IgD syndrome), undiagnosed immune diseases.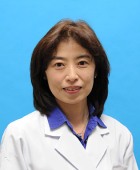 Departments/Divisions
Immune-Mediated Diseases Therapy Center
Titles
M.D., Ph.D.
Expertise/Specialties
Immune-Mediated Diseases (mainly rheumatic disease and collagen diseases)
Research Interests
Elucidation of pathogenesis and development of treatment for rheumatoid arthritis and psoriatic arthritis
Investigating the safety of molecularly targeted therapy for Immune-Mediated Diseases Therapy for Immune-Related Diseases
Languages
Japanese