Top > Centers & Services > Central Clinical Services > Department of Pediatric and Neonatal Intensive Care Unit
Department of Pediatric and Neonatal Intensive Care Unit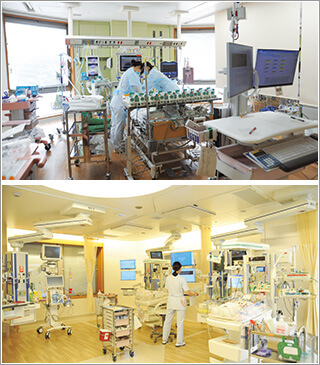 The Department of Pediatric and Neonatal Intensive Care Unit is designated by the Tokyo Metropolitan Government as a Comprehensive Perinatal Center and as a Children's Emergency Center, and as such it provides advanced multimodal therapies to infants and children with severe diseases through the collaboration of physicists specializing in pediatrics, pediatric surgery, cardiovascular surgery and other fields.
Medical services
The department is largely divided into the neonatal intensive care unit and the pediatric intensive care unit. As the responsibility center for the central block of Tokyo's perinatal medical system, the neonatal intensive care unit (NICU) is divided into 21 beds for the NICU and 30 beds positioned in the rear parts for the growing care unit (GCU) aimed at treating infants in severe conditions. The pediatric intensive care unit (PICU) has 12 beds and takes care of the treatment for children of all ages in severe conditions other than neonatal infants. Designated as Tokyo's children's emergency unit, it is set to accept children for whom life-saving treatments are difficult in other medical institutions at all times.
Diagnosis and treatment policy
Our primary policy is to protect the lives of children including infants and to seek the happiness of the families including their children, for the children's future and their smiles.
Specialties
The department can conduct all forms of treatment for congenital heart diseases, and neonatal and pediatric surgical diseases. Moreover, it conducts lifesaving treatments including extracorporeal circulation such as ECMO and CHDF.
Target diseases
At the NICU all diseased infants, and at the PICU all children in severe conditions are accepted, with no particular exceptions. The NICU mainly focuses on premature births, low birth-weights, newborn asphyxia, infectious diseases, all forms of congenital diseases including surgical diseases and heart diseases requiring surgery, and neonatal diseases associated with maternal disorders, and admits around 350 infants every year. The PICU mainly focuses on children in severe conditions who suffer from respiratory or circulatory failure or who require surgeries.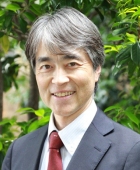 Departments/Divisions
Department of Pediatric and Neonatal Intensive Care
Titles
M.D., Ph.D.
Expertise/Specialties
Neonatology, Immunology, Infectious Diseases
Research Interests
Research on the neonatal immune tolerance and the pathophisiology of neonatal infectious diseases
Languages
Japanese, English

© Copyright 2014 The University of Tokyo Hospital. All Rights Reserved