Top > Centers & Services > Central Clinical Services > Department of Clinical Engineering
Department of Clinical Engineering
Thirty-seven clinical engineers belonging to the Department of Clinical Engineering provide services at various locations throughout the hospital to support the advanced specialized medical treatment that university hospitals are expected to provide.

Medical services
There are 37 clinical engineers divided into four groups assigned to ME equipment maintenance, Hemodialysis, the Surgical Center, and Angiography Laboratory.
ME Equipment Maintenance
The ME Center maintains 3,000 medical devices. After being used for a patient, the device is returned to the ME Center for cleaning and inspection to assure that it is both hygienic and safe, and in the best condition for the next patient. Particularly detailed inspections are performed for life-support systems such as ventilators.
Hemodialysis
The Depar tment of Clinical Engineering manages and operates the machines for apheresis therapy including hemodialysis, intermittent infusion hemodiafiltration (I-HDF), and plasma exchange at the Depar tment of Hemodialysis and Apheresis. In recent years, water quality control has become an impor tant issue, and at the depar tment, clinical engineers monitor and manage water quality. The department also secures safety on blood purification therapy by regular maintenance of blood purification machines. Moreover, around 650 cases of hemodialysis and continuous renal replacement therapy (CRRT) are performed every year in the ICU/CCU, and the department is handling these cases on a 24-hour basis.
Operating rooms/extracorporeal circulation devices
The Department of Clinical Engineering manages various equipment in the operating room, which includes maintenance and operation of heart/lung machines and circulatory assist devices. Medical equipment in operating rooms are managed centrally for the sake of efficiency, and are allotted to surgeries based on their operative method and the device's inspection status. If a problem occurs, the department acts swiftly to handle the situation. Every year, roughly 250 surgeries involving cardiopulmonary bypass across a diverse range of medical cases are carried out, such as congenital heart disease in newborns, ischemic heart disease, and aortic disease, in which our clinical engineers are responsible for handling the heart/lung machines. There are around 50 to 60 ECMO cases each year, and this number is rising steadily. In cooperation with other medical staff, our engineers strive for appropriate implementation of new devices and management of devices currently in use. The hospital also manages 70 to 80 patients with fully implantable artificial hearts, and provides assistance to ensure that they feel comfor table recuperating at home.
Angiography Laboratory Activities
A group assigned to the Angiography Laboratory is engaged in testing and treatments in the cardiovascular field, such as the operation and maintenance of medical devices used in ischemic heart, arrhythmic and heart failure diseases, including pediatric cases. In addition, we are ready to support emergent cases requiring cardiac catheter study or intervention on a round the-clock basis.

Training
In recent years, the depar tment is making ef for ts to ensure the safe management of medical equipment, and to this end, it carries out around 230 training sessions per year. It also actively participates in medical equipment maintenance and also offers advice when designing facilities in the hospital, helping to build a better medical care system.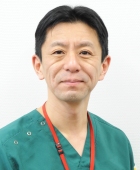 Departments/Divisions
Emergency and Critical Care Medicine, Critical Care and Emergency Medical Center/ER, Department of Intensive Care Unit, Department of Clincal Engineering, Department of Disaster Medical Management
Titles
M.D., Ph.D.
Expertise/Specialties
Critical care medicine, Emergency medicine, Nephrology
Research Interests
Sepsis, Multiple organ failure, Acute kidney injury, Blood purification
Languages
English/Japanese

© Copyright 2014 The University of Tokyo Hospital. All Rights Reserved