Top > Centers & Services > Central Clinical Services > Department of Endoscopy and Endoscopic Surgery
Department of Endoscopy and Endoscopic Surgery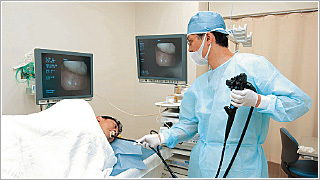 The Department of Endoscopy and Endoscopic Surgery specializes in endoscopic testing and treatment. Upper and lower gastrointestinal endoscopy, endoscopic ultrasonography, capsule endoscopy, bronchoscopy, otorhinolaryngologic endoscopy, gynecologic endoscopy and endoscopic treatments of various organs are performed every day. We also clean endoscopes used by other departments. Radiographic examinations using devices other than a bronchoscope are performed by the Imaging Center.
Medical services
In addition to gastroenterology specialists belonging to the Department of Endoscopy and Endoscopic Surgery, specialists from the Departments of Gastroenterology, Stomach and Esophagus Surgery, Colon and Rectal Surgery, Hepatobiliary Pancreatic Surgery, Respiratory Medicine, Thoracic Surgery, Otorhinolaryngology, Gynecologic Surgery, and Center for Epidemiology and Preventive Medicine provide tests and treatments.

Diagnosis and treatment policy
With an emphasis placed on safe and high-level medical services, the utmost attention is paid to the prevention of mistakes and assurance of safety as we help patients through the challenges of treatment.
Specialties
Endoscopic resections of tumors in the esophagus, stomach and colon (polypectomy, endoscopic mucosal resection (EMR), endoscopic submucosal dissection (ESD)), stenting for gastrointestinal tract.
Departments/Divisions
Department of Endoscopy and Endoscopic Surgery
Titles
M.D., Ph.D.
Expertise/Specialties
Diagnostic and therapeutic endoscopy, Gastroenterology, Oncology, Interventional radiology
Research Interests
Research on the diagnosis and management of pancreatobiliary diseases, chemotherapy for pancreatobiliary cancer, endotherapy for pancreatobiliary diseases.
Languages
Japanese/English