Top > Centers & Services > Central Clinical Services > Children's Medical Center
Children's Medical Center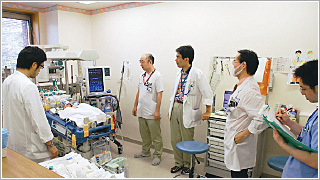 The Pediatric Medical Center provides care and treatment for pediatric patients in cooperation with the Departments of Pediatrics and Pediatric Surgery as well as other relevant departments/divisions.
Medical services
All relevant Departments, including Pediatrics (and the neonatal unit), Pediatric Surgery, Cardiovascular Surgery, Obstetrics and Gynecology, Neurosurgery, Otorhinolaryngology, Orthopedic Surgery, Oral-Maxillofacial Surgery, Ophthalmology, Dermatology, and Child Psychiatry, cooperate to provide care and treatment for pediatric patients. There is also an in-hospital school so assure continuity of education for our young patients. In addition, children's nurses and volunteer workers are stationed in the pediatric ward to provide high-quality care to children.
Diagnosis and treatment policy
With an emphasis on advocacy for children, we provide comprehensive treatment, both mental and physical, based on the latest findings and using well established techniques.
Specialties
All medical disorders, including infectious diseases that affect children are treated by the Center, which has earned an outstanding reputation for its successful treatment of severe cases of hematologic/malignant tumors, congenital heart disease, neurological disorders, and low birth weight infants. We have achieved significantly better results than other pediatric medical facilities. Our transplantation results have also been remarkably successful. We also perform fetal diagnosis. Specialists are available for the treatment of a wide range of diseases such as renal disease, endocrine disorders, respiratory disorders, congenital immunodeficiency, and psychophysiological disease. We also specialize in surgery for congenital heart disease, abdominal and urologic disease, and bronchoscopy for respiratory disease.
Target diseases
Pediatric hematologic disorders, malignant tumors (acute leukemia, malignant lymphoma, aplastic anemia, neuroblastoma, osteosarcoma, etc.), various congenital heart diseases (hypoplastic left heart syndrome, etc.), Kawasaki disease, neurological disorders (epilepsy, acute encephalopathy, deformity, etc.), low birth weight infants, renal disease (chronic nephritis, nephrotic syndrome, urinary tract infection, renal tubular dysfunction, etc.), growth disorder, diabetes, airway malacia, school absenteeism, pediatric surgical disease (body surface disease such as inguinal hernia, neonatal surgical disease, thoracic surgical disease, hepatobiliary disease, gastrointestinal disease, etc.) etc.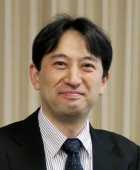 Departments/Divisions
Pediatrics, Children's Nedical Center
Titles
M.D., Ph.D.
Expertise/Specialties
Pediatric hematolog, Pediatric oncology, Hematopoietic cell transplantation, Genomic medicine
Research Interests
Cancer genomics
Languages
Japanese, English

© Copyright 2014 The University of Tokyo Hospital. All Rights Reserved