Top > Centers & Services > Central Clinical Services > Central Supply Service
Central Supply Service
At the Central Supply Service Division, clinical materials are cleaned and sterilized before reuse within the hospital.
Services
Clinical instruments, including small steel instruments and other surgical and therapeutic instruments that have been used in outpatient clinics (31), wards (37), and operating theaters (23) are delivered to the Central Supply Service Division via advanced AGV(Automated Guided Vehicle) from the Surgical Center and via a medium-size automatic transport system from hospital wards. The used instruments are cleaned using standard precautionary procedures, disinfected, reassembled, packaged, and sterilized. The sterilized instruments are then placed at designated sites for use. The cleaning of instruments from operating rooms accounts for more than 70% of all activity. The Central Supply Service Division receives about 100 sets of instruments daily from the Surgical Center for cleaning and sterilization, and more than 2,000 instruments and other material from outpatient clinics. In addition, our department is conducting basic research on cleaning and sterilizing methods for instruments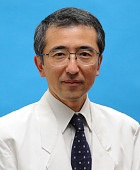 Departments/Divisions
Surgical Center, Central Supply Service, Nutrition Support Team
Titles
M.D. , Ph.D.
Expertise/Specialties
General Surgery, Operative Medicine, Nutrition Support
Research Interests
Surgical Nutrition and Metabolism, Gut Immunity
Languages
Japanese, English