Top > Centers & Services > Central Clinical Services > Admission and Discharge Center
Admission and Discharge Center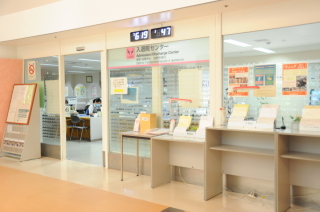 The Admission and Discharge Center is responsible for administering the beds for the entire hospital to ensure smooth coordination, including assigning a bed and managing the admission date for each patient, as well as contacting patients and handling their admission and discharge procedures..
Overview
The Admission and Discharge Center takes care of the necessary procedures related to hospitalization and discharge. We decide beds for those that have reserved their hospitalization and announce a patient the day of the hospitalization and the ward where the patient will be hospitalized. We also decide beds for emergency hospitalization during daytime on weekdays based on information from the attending physician..

Organizational structure
The center is composed of the center's Director, the Chief Nurse in charge of hospital bed management, and administrative personnel.
Activities
The center implements decisions made by the Inpatient Services Administration and the Ward Management Committee. The Center conducts surveys and responds to patient feedback. It also regularly revises the hospital's admission information to improve patient services.