Top > Centers & Services > Clinical Divisions and Departments > Neuropsychiatry
Neuropsychiatry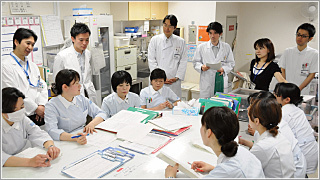 The Department of Neuropsychiatry deals with a variety of psychiatric disorders which are caused by brain abnormalities or psychological factors. We also try to treat psychiatric patients with physical complications or with organic disorders. Our department provides care for the patients with psychosis, neurosis, or other psychiatric and psychological illness.

Medical services
The department staff consists of about 30 psychiatrists. There are 54 beds for inpatient care. The open ward has 28 beds and the locked ward has 26 beds including 3 seclusion rooms. Our department adopts an advance appointment system for outpatient. In addition to ordinary general outpatient care, the department provides specialized outpatient care for the at risk mental state.
Diagnosis and treatment policy
We offer comprehensive biological and psychosocial evaluations and aim for mental well-being of patients by care including pharmacotherapy, modified electro-convulsive therapy and psychosocial support including occupational therapy, group therapy and social work.
Specialties
Schizophrenia, mood disorders, senile psychiatric disorders, epilepsy
Developmental disorders such as autism and attention deficit hyperactivity disorder (ADHD)
Diagnosis and treatment of the prodromal stage of schizophrenia
Diagnosis and treatment of panic disorder and anxiety disorder
Intervention (consultation/ liaison psychiatry) for psychiatric problems in patients with physical disorders
Target diseases
Psychotic disorders such as schizophrenia, mood disorders such as bipolar disorder and depression, senile/ organic psychiatric disorders such as dementia epilepsy, neurotic disorders such as anxiety disorder and panic disorder, stressrelated disorders, developmental disorders such as autism and ADHD.
Advanced treatments/ Specialized treatments
Day Hospital (DH) (psychiatric day care)
Early intervention and social rehabilitation programs designed mainly for patients with schizophrenia are provided.
Occupational therapy
Various programs are available both for inpatients and outpatients.
Modified electroconvulsive therapy
For patients with refractory depression
Optical topography (Near-infrared spectroscopy)
Used as an assist in the differential diagnosis of the depressive state.
Epilepsy monitoring unit (EMU)
The Department of Neuropsychiatry offers a comprehensive assessment program including Prolonged Video EEG Monitoring.
Frequently performed tests
EEG, head CT, MRI, SPECT and near-infrared spectroscopy may be performed according to psychiatric symptoms.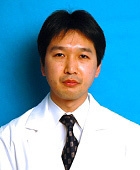 Departments/Divisions
Neuropsychiatry, Medical Community Network and Discharge Planning
Titles
M.D. , Ph.D.
Expertise/Specialties
Clinical Psychiatry, Early intervention and rehabilitation for schizophrenia, Community mental health
Research Interests
Neuroimaging in psychiatric disorders, Mental health and neuroscience in adolescence
Languages
Japanese / English
Major diseases treated in this department and numbers of in- and outpatients
| | Classification | Total number |
| --- | --- | --- |
Areas of expertise, treatment and examination methods
Early intervention for patients with schizophrenia during the prodromal period
Developmentally disabled clinical assessment, diagnosis
Non-convulsive electrotherapy

Epileptic differential diagnosis (two weeks testing hospitalization)
Numbers of major operations and treatments performed
| | Name of operation/treatment | Number |
| --- | --- | --- |
| | | |
| --- | --- | --- |
| 1 | Non-convulsive electrotherapy | 252 |
Numbers of specialized examinations conducted in this department
| | | |
| --- | --- | --- |
| 1 | Advanced medical examination using optical topography as an assistive approach to the differential diagnosis of depressive states | 101 |

© Copyright 2014 The University of Tokyo Hospital. All Rights Reserved