Top > Centers & Services > Clinical Divisions and Departments > Stomach and Esophageal Surgery
Stomach and Esophageal Surgery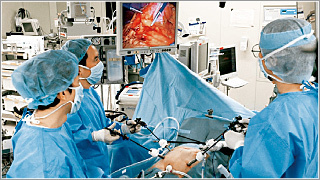 The Department of Stomach and Esophageal Surgery specializes in the diagnosis and surgical treatment of malignant diseases such as gastric and esophageal cancer, and benign diseases such as esophageal hiatal hernia. We also provide advanced surgical treatment for severe obesity.

Medical services
Supervising physicians and specialists affiliated with the Japan Surgical Society, the Japanese Society of Gastroenterological Surgery, the Japan Esophageal Society, and the Japanese Gastric Cancer Association provide highly professional treatment. Patients receive cutting-edge treatment from diagnosis to surgery and chemotherapy.
Diagnosis and treatment policy
We place the highest priority on the patient. Patients' wishes regarding treatment decisions are confirmed and respected at all times. The most appropriate treatment method is selected by a group of specialists based on a careful review of the results of detailed and precise examinations, and patients are included in discussions about the selected method.
Specialized surgical procedures include:
Esophageal cancer
Based on our broad experience, we strive to perform surgery that achieves radical cures while ensuring patient safety and maintaining postoperative quality of life. Patients who have undergone surgery at our hospital have successfully returned to their preoperative levels of social and professional activity. Additionally, laparoscopic surgery is performed for cancers detected in the early stages.
Gastric cancer
Striving to provide "body-friendly" treatment, we apply laparoscopic surgery techniques for cancers detected in the early stages.
Chemotherapy
Pre- and postoperative chemotherapy is used to increase the excision rate and improve the prognosis.
Target diseases
Gastric malignancy (gastric cancer, GIST, etc.), esophageal malignancy (esophageal cancer, malignant melanoma, sarcoma, etc.), emergency surgery for bleeding and perforation; benign diseases such as hernia; severe obesity.
Advanced treatments/ Specialized treatments
Esophageal cancer treatment
By enhancing the immune system preoperatively, we have achieved a reduction in postoperative complications. Our aims are to perform surgery without blood transfusion, to cause no deaths attributable to surgery, and allow early hospital discharge after surgery. Additionally, robot-assisted surgery (Non One-lung Ventilation Esophagectomy; NOVEL) is performed.
Gastric cancer treatment
With the goal of reducing the physical burden on patients, we apply laparoscopic surgery techniques. Preoperative chemotherapy is used to improve the prognosis. .
Severe obesity
Intragastric balloon placement is used for severely obese patients who do not respond to conventional treatment methods.
Frequently performed tests and descriptions
Esophageal diseases
Endoscopy, Endoscopic ultrasonography, CT, PET, etc.
Gastric diseases
Endoscopy, NBI endoscopy, H. Pylori test, CT, etc.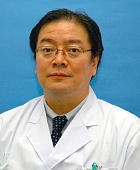 Departments/Divisions
Stomach and Esophageal Surgery, Breast and Endocrine Surgery
Titles
M.D. , Ph.D.
Expertise/Specialties
Upper GI surgery, Esophageal Cancer, Gastric Cancer
Research Interests
surgical procedure and oncology of esophageal and gastric cancer
Languages
Japanese and English
Major diseases and numbers of inpatients treated
| | Disease name | Number of inpatients |
| --- | --- | --- |
| | | |
| --- | --- | --- |
| 3 | Other gastroduodenal tumors | 16 |
| | | |
| --- | --- | --- |
| 5 | Bleeding ulcers and perforation | 10 |
| | | |
| --- | --- | --- |
| 6 | Ileus (intestinal obstruction) | 19 |
Areas of expertise, treatment and examination methods
Diseases
Esophageal cancer
Gastric cancer
Esophagogastric junction cancer
Gastrointestinal stromal tumors (GISTs)
Inguinal hernia
Treatment methods
Esophagectomy(open, robotic, laparoscopic)
Gastrectomy (open, laparoscopic)
Non-exposed Endoscopic Wall-inversion Surgery (NEWS)
Chemotherapy for esophageal and gastric cancer (neoadjuvant, and, for advanced and recurrent cases)
Inguinal hernia
Examination methods
Gastrointestinal endoscopy
CT scan
PET-CT scan
Numbers of operations and treatments performed in this department
| | Name of operation/treatment | Number |
| --- | --- | --- |
| | | |
| --- | --- | --- |
| 1 | Esophagectomy with thoracolaparotomy for esophageal cancer | 40 |
| | | |
| --- | --- | --- |
| 2 | Robot-assisted esophagectomy for esophageal cancer | 10 |
| | | |
| --- | --- | --- |
| 3 | Other operations and treatments for esophageal cancer | 6 |
| | | |
| --- | --- | --- |
| 4 | Laparotomy for gastric cancer and submucosal tumors | 73 |
| | | |
| --- | --- | --- |
| 5 | Laparoscopic surgeries for gastric cancer and submucosal tumors | 48 |
| | | |
| --- | --- | --- |
| 6 | Staging Laparoscopy In Gastric Cancer | 24 |
| | | |
| --- | --- | --- |
| 8 | Others (such as acute celiopathy surgery and surgical intervention for Ileus) | 63 |

© Copyright 2014 The University of Tokyo Hospital. All Rights Reserved