Top > Centers & Services > Clinical Divisions and Departments > Pediatric Surgery
Pediatric Surgery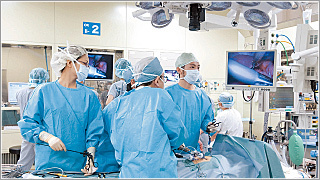 The Department of Pediatric Surgery provides medical services for a wide range of surgical diseases such as congenital disorders, inflammation and tumors, in cooperation with Obstetrics, Pediatrics, and other surgical clinics.

Medical services
A team of senior instructors and pediatric surgeons certified by the Japanese Society of Pediatric Surgeons provide medical care in cooperation with nurses in the pediatric surgery ward. Treatment strategies are carefully reviewed at regular ward conferences and during daily rounds.
Diagnosis and treatment policy
Any medical intervention has both advantages and disadvantages. The balance between these is always carefully reviewed in making treatment plans. Before deciding whether or not to perform an endoscopic procedure, sufficient time is taken to discuss the case with the child's family with the highest priority placed on the child.
Specialties
Our specialties include Endoscopic surgery, interdisciplinary surgical treatment of severely mentally and physically handicapped children and children with severe intractable neuromuscular disease, neonatal surgical disease, hepatobiliary surgical disease, urologic disease, malignancy, gastrointestinal disease, respiratory disease, spina bifida
Target diseases
Body surface diseases such as inguinal hernia, neonatal surgical disease, thoracic surgical disease, hepatobiliary disease, malignancy, gastrointestinal disease, urogenital disease, spina bifida, foreign bodies in the digestive tract, foreign bodies in the airway
Advanced treatments/ Specialized treatments
Endoscopic surgery
The number of pediatric endoscopic surgeries performed and the level of our surgical techniques are among the highest in Japan.
Perinatal diagnosis and treatment for surgical diseases
When surgical disease is diagnosed before birth, appropriate treatment is started perinatally in cooperation with the obstetrics and neonatal departments.
PICU (Pediatric Intensive Care Unit)
The first Pediatric ICU established at a national university hospitals
Probiotics/synbiotics therapy
Our department performed augmentation therapy for pediatric gastrointestinal function ahead of other countries in the world.
Frequently performed tests
Abdominal ultrasound examination, esophageal and gastroduodenal series, colon series, cystogram, CT/MRI examination, renal scintigraphy, liver scintigraphy, biliary scintigraphy, rectal mucosal biopsy, 24-hour esophageal pH test, gastrointestinal inner pressure, bronchoscopy, gastrointestinal endoscopy, cystoscopy, etc.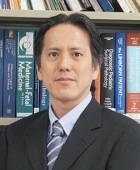 Departments/Divisions
Department of Pediatric Surgery
Titles
M.D. , Ph.D.
Expertise/Specialties
Pediatric Surgery, Pediatric Minimally Invasive Surgery, Pediatric Oncology, Pediatric Urology, Pediatric HBP Surgery
Research Interests
Pediatric Hepatobiliary disease, Pediatric MIS, Transplantation Immunology
Languages
Japanese/English
Major diseases and numbers of inpatients treated
| | Disease name | Number of inpatients |
| --- | --- | --- |
| | | |
| --- | --- | --- |
| 1 | Inguinal hernia (-related diseases) | 35 |
| | | |
| --- | --- | --- |
| 3 | Pediatric malignant solid tumors | 19 |
| | | |
| --- | --- | --- |
| 4 | Gastroesophageal reflux disease | 18 |
| | | |
| --- | --- | --- |
| 6 | Imperforate anus, Hirchsprung disease | 9 |
| | | |
| --- | --- | --- |
| 8 | Vesicoureteral reflux | 5 |
| | | |
| --- | --- | --- |
| 10 | Neonatal surgical diseases | 31 |
Diseases selectively treated in this department and treatment and examination methods for them
Diseases
Pediatric malignant solid tumors
Pediatric hepatobiliary disorders
Gastrointestinal dysfunction
Pediatric respiratory diseases
Pediatric urologic diseases
Prenatally diagnosed diseases
Treatment methods
Laparoscopic surgery, minimally invasive treatment
Examination methods
Endoscopic examinations
Gastrointestinal function assessment
Special imaging
Numbers of major operations and treatments performed
| | Name of operation/treatment | Number |
| --- | --- | --- |
| | | |
| --- | --- | --- |
| 1 | Surgical treatment of diaphragm disorders (curative surgery for diaphagmatic hernia) | 5 |
| | | |
| --- | --- | --- |
| 2 | Surgery for pediatric malignant solid tumors | 7 |
| | | |
| --- | --- | --- |
| 3 | Imperforate anus, Hirchsprung disease | 7 |
| | | |
| --- | --- | --- |
| 4 | Radical surgery for gastrointestinal atresia (such as esophageal and duodenal atresia) | 2 |
| | | |
| --- | --- | --- |
| 6 | Tracheotomy and laryngotracheal separation | 12 |
| | | |
| --- | --- | --- |
| 7 | Hepatobiliary surgeries (such as radical surgery for biliary atresia) | 5 |
| | | |
| --- | --- | --- |
| 8 | Urological surgery (such as radical surgery for vesicoureteral reflux) | 8 |
| | | |
| --- | --- | --- |
| 10 | Surgery for inguinal hernia and related diseases | 34 |
Numbers of major and specialized examinations conducted in this department
| | Name of examination | Number |
| --- | --- | --- |
| | | |
| --- | --- | --- |
| 1 | Upper gastrointestinal endoscopy | 15 |
| | | |
| --- | --- | --- |
| 2 | Lower gastrointestinal endoscopy | 3 |
| | | |
| --- | --- | --- |
| 5 | Hepatic and renal biopsies | 3 |

© Copyright 2014 The University of Tokyo Hospital. All Rights Reserved