Top > Centers & Services > Clinical Divisions and Departments > Oral-Maxillofacial Surgery, Dentistry and Orthodontics
Oral-Maxillofacial Surgery and Orthodontics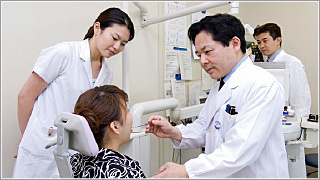 The Department of Oral-Maxillofacial Surgery and Orthodontics mainly provides medical care for patients with congenital or acquired abnormalities of the teeth and jaw such as maxillofacial deformities, maxillofacial trauma, and oral tumors; and other severe systemic diseases.
Medical services
A team of physicians, dentists, and speech therapists provide interdisciplinary treatments, such as oral, dental and maxillary surgery (oral-maxillofacial surgery) for oral inflammation and tumors; prosthetic treatments using artificial teeth and dental implants (prosthetic dental treatment) for deficient teeth and maxilla due to tumor and trauma; improvement of dental articulation in patients with significant maxillary deformation and control of jaw growth (orthodontics).
Diagnosis and treatment policy
At the first consultation, a doctor specializing in the treatment required for each patient is assigned to the case. This is followed by, if necessary, x-ray examination, blood tests, stomatognathic function test, tissue biopsy, and other examinations. The final treatment plan is determined through discussion based on these specialized test results.
Specialties
Department of Oral-Maxillofacial Surgery
Surgical treatment for cleft lip and palate, maxillofacial deformities, maxillofacial fractures, and maxillofacial tumors; treatment for language disorders; management of temporomandibular joint disease, oral inflammation, etc.
Department of Orthodontics
Prosthetic dentistry
Treatment for congenital anomalies such as cleft lip and palate, prosthetic deficient teeth and maxilla after trauma and tumor resection (artificial teeth, bridging, dental implants, etc.)
Orthodontic dentistry
Management of maxillary growth in infants with congenital maxillofacial anomalies such as clef t lip and palate; pre-and postoperative management of dental articulation in patients with maxillofacial deformities, maxillofacial fracture and maxillofacial tumors
Target diseases
Congenital maxillofacial anomalies (cleft lip and palate, branchial arch syndrome, craniosynostosis, etc.), maxillofacial deformities (mandibular protrusion, maxillary protrusion, etc.), maxillofacial fractures, maxillofacial defects, temporomandibular joint disease, salivary gland disease, jawbone cysts, pericoronitis of the wisdom teeth, impacted teeth, oral tumors, oral inflammation, language disorders
Advanced treatments/ Specialized treatments
Jaw bone extension
Gradual extension of the jaw bone
Transplantation of tailor-made artificial bone for the face
Implant dental prosthetics
Improvement of dental articulation using implant techniques
Frequently performed tests
Dental x-ray and panoramic x-ray examinations : Detection of abnormality in the teeth and jaw
Standard head x-ray examination : Quantitative analysis of maxillofacial shape
Stomatognatic function test : Evaluation of jaw movement and masticatory muscles
Three-dimensional maxillofacial model : Understanding of maxillofacial deformation and fractured bones
Various language function tests : Articulation, nasopharyngeal function, language development, etc.
Major diseases and numbers of inpatients treated
| | Disease name | Number of inpatients |
| --- | --- | --- |
| | | |
| --- | --- | --- |
| 1 | Odontogenic infection | 52 |
| | | |
| --- | --- | --- |
| 2 | Oromandibular trauma | 19 |
| | | |
| --- | --- | --- |
| 3 | Congenital oromandibular anormalities | 79 |
| | | |
| --- | --- | --- |
| 5 | Temporomandibular joint disorders | 2 |
| | | |
| --- | --- | --- |
| 6 | Oral mucosal diseases | 5 |
| | | |
| --- | --- | --- |
| 7 | Benign oral cavity tumors | 26 |
| | | |
| --- | --- | --- |
| 8 | Malignant oral cavity tumors | 23 |
Areas of expertise, treatment and examination methods
Diseases
Cleft lip and palate
Jaw deformity
Mandibular fractures
Oral cavity tumors
Numbers of major operations and treatments performed
| | Name of operation/treatment | Number (under general anesthesia) |
| --- | --- | --- |
| | | |
| --- | --- | --- |
| 1 | Labioplasty/ Lip correction surgery | 39 |
| | | |
| --- | --- | --- |
| 4 | Pharyngeal flap surgery | 2 |
| | | |
| --- | --- | --- |
| 5 | Mandibular lengthening | 2 |
| | | |
| --- | --- | --- |
| 6 | Mandibular osteotomy | 27 |
| | | |
| --- | --- | --- |
| 7 | Benign tumor resection/ Cystectomy | 35 |
| | | |
| --- | --- | --- |
| 8 | Malignant tumor resection | 23 |
| | | |
| --- | --- | --- |
| 9 | Surgery for mandibular fractures | 7 |
| | | |
| --- | --- | --- |
| 10 | Impacted tooth extraction | 605(including those performed under local anesthesia) |
Numbers of major and specialized examinations conducted in this department
| | Name of examination | Number |
| --- | --- | --- |
| | | |
| --- | --- | --- |
| 1 | Mandibular function assessment | 33 |
| | | |
| --- | --- | --- |
| 2 | 3-D maxillofacial bone model | 47 |

© Copyright 2014 The University of Tokyo Hospital. All Rights Reserved