Top > Centers & Services > Clinical Divisions and Departments > Breast and Endocrine Surgery
Breast and Endocrine Surgery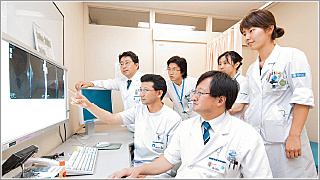 The Department of Breast and Endocrine Surgery specializes in the diagnosis and treatment of breast cancer, phyllodes tumors, breast fibrocystic disease, thyroid cancer, thyroid mass and, hyperparathyroidism.
Medical services
Supervising physicians and specialists from the Japan Surgical Society and the Japanese Breast Cancer Society; and experienced specialists from the Japan Association of Endocrine Surgeons, the Japanese Society of Thyroid Surgery, and Japan Society for Endoscopic Surgery perform examinations, surgery, anticancer chemotherapy, and hormone therapy.
Diagnosis and treatment policy
Our aim is to remain the most patient-friendly surgical department with the best therapeutic outcomes in Japan. In making diagnoses and selecting treatments, physicians discuss the situation with patients. The patient's clinical course will also be observed carefully after surgery so as to improve quality of life.
Specialties
Suitable breast cancer treatment based on close cooperation among the Department of Breast and Endocrine Surgery, Department of Radiology, and Department of Pathology
Mammography, ultrasound examination, MRI, aspiration cytology, and needle biopsy are used to determine which patients require breast conserving surgery and which patients pectoral muscle-conserving mastectomy.
Anticancer chemotherapy and hormone therapy based on abundant experience are provided to patients after they are given information that helps them fully understand the treatment.
Target diseases
Breast cancer, breast fibrocystic disease, phyllodes tumor, intraductal papilloma, mastitis, gynecomastia, other breast mass, thyroid cancer, Grave's disease, nontoxic multinodular goiter, follicular goiter, chronic thyroiditis, subacute thyroiditis, hyperparathyroidism, neck mass.
Advanced treatments/ Specialized treatments
Breast cancer treatment
For patients who require total mastectomy, reconstructive mammaplasty and tissue expander insertion surgery are performed.
Frequently performed tests
Breast disorders
Mammography, ultrasound examination, conventional CT, MRI, aspiration cytodiagnosis, needle biopsy, bone scintigraphy, PET (positron-emission tomography)
Thyroid/endocrine disorders
Ultrasound examination, CT, MRI, aspiration cytodiagnosis, scintigraphy (thallium, MIBI)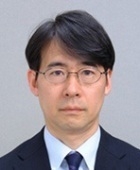 Departments/Divisions
Breast and Endocrine Surgery
Titles
M.D. , Ph.D.
Expertise/Specialties
Breast Imaging, Breast Surgery, Endocrine Therapy, Chemotherapy
Research Interests
Breast Surgery
Languages
Japanese/English
Areas of expertise, treatment and examination methods
Diseases
Breast cancer
Thyroid cancer
Primary hyperparathyroidism
Basedow's disease
Treatment methods
Breast surgery
Chemotherapy
Hormone therapy
Radiation therapy
Examination methods
Ultrasonography
Mammography
Fine needle aspiration cytology
Core needle biopsy
Vacuum assisted biopsy
Stereotactic mammotome biopsy
MRI
CT
Bonescan
Numbers of major operations and treatments performed
| | Name of operation/treatment | Number |
| --- | --- | --- |
| | | |
| --- | --- | --- |
| 1 | Breast-conserving surgery for breast cancer | 66 |
| | | |
| --- | --- | --- |
| 2 | Mastectomy for breast cancer | 58 |
| | | |
| --- | --- | --- |
| 3 | Mastectomy with tissue expander | 10 |
| | | |
| --- | --- | --- |
| 4 | Sentinel lymph node biopsy | 94 |
| | | |
| --- | --- | --- |
| 5 | Axillary node dissection | 30 |
| | | |
| --- | --- | --- |
| 6 | Resection of benign mammary tumor | 14 |
| | | |
| --- | --- | --- |
| 7 | Thyroid cancer resection | 41 |
| | | |
| --- | --- | --- |
| 8 | Benign thyroid tumor removal | 8 |
| | | |
| --- | --- | --- |
| 9 | Parathyroid adenoma removal | 21 |
Numbers of major and specialized examinations conducted in this department
| | Name of examination | Number |
| --- | --- | --- |
| | | |
| --- | --- | --- |
| 3 | Stereo-guided mammotome biopsy | 18 |

© Copyright 2014 The University of Tokyo Hospital. All Rights Reserved