Top > Centers & Services > Central Clinical Facilities and Clinical Research Division > Surgical Center
Surgical Center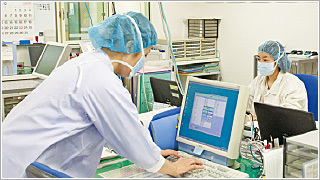 Surgical Center is a department where healthcare professionals and equipped to provide a clean and safe environment for surgical treatment. In response to the growing interest in medical safety in recent years, our Center continues to focus on "Safe Surgery" in the field of advanced surgical treatment.

Management of the Operation Center
Due to the rapid advancement of surgical techniques, operations have become increasingly demanding and complex. They also require long time and advanced sophisticated surgical equipment. At the end of 2011, the hospital began perform robot-assisted surgery. More recently, in 2016, one general operating room was rebuilt into a hybrid one. In these rapidly changing circumstances, it is our duty to ensure patient safety in the surgical treatment while improving the quality of surgical service for the patients and the efficiency of operating rooms.
Activities of Operation Center
The total numbers of operations performed in the surgical center are 9,957 in 2009, 10,206 in 2010, 10,262 in 2011, 10,653 in 2012, 11,173 in 2013, 11,133 in 2014 and 10,817 in 2015. The volume of operation is one of the largest among national university hospitals in Japan. In addition to those results, the various types of surgical procedure have been including organ transplantations, endovascular stent grafting, robot-assisting surgery and transcatheter aortic valve implantation.
Surgical Research
The University of Tokyo Hospital carries out sophisticated, specialized operations based on the following clinical and research activities.
Safe surgery
Operating room scheduling
Infection-control and prevention of surgical site infection (SSI)
Development of patient monitoring systems during surgery
Maintenance of surgical equipment
Management of medical device using UDI (Unique Device Identifier)
Basic and clinical research relating to the endoscopic operation
Basic and clinical research on a hygienic environment in operating room
Basic and clinical research on cleaning and sterilizing of surgical equipment
Maintenance and management of medical gas

© Copyright 2014 The University of Tokyo Hospital. All Rights Reserved