Top > Centers & Services > Central Clinical Facilities and Clinical Research Division > Intensive Care Unit
Intensive Care Unit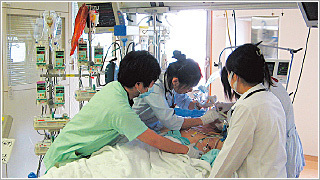 The Intensive Care Unit manages and treats patients with severe conditions such as sepsis, multiple organ failure, and shock; patients after highly invasive surgery; and tertiary emergency patients transferred from the emergency outpatient clinic.
Medical services
Staff specializing in internal medicine, cardiovascular medicine, neurosurgery, orthopedic surgery, general surgery, and anesthesiology provide around-the-clock medical care in the ICU. By integrating emergency and intensive care as a single area of critical care, comprehensive care is provided.
Treatment policy
Treatment plans are determined at daily ICU conferences attended by ICU staff and physicians from departments specializing in the care each ICU patient requires.
Specialties
Ventilation management
For patients with ARDS and severe pneumonia who cannot be managed by ordinary artificial ventilation, the optimal artificial ventilation management is performed based on the latest evidence.
Shock
The diagnosis of shock is based on the pathologic condition and appropriate treatment is provided according to the cause, aiming at early stabilization.
Multiple organ failure
Multiple organ failure caused by shock and sepsis is treated using mechanical aids (artificial ventilation, acute hemodialysis, assisted circulatory device, etc.)
Multiple trauma
The treatment provided at the emergency outpatient clinic continues in cooperation with different departments and comprehensive treatment is provided for trauma and the management of respiratory and cardiovascular function.
Severe burns
With burn showers and beds, patients suffering from burns are treated for infection and provided with nutrition and functional management over a long period of time.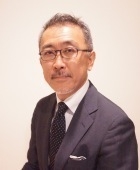 Departments/Divisions
Department of Acute Medicine
Tertiary Emergency and Critical Care Center, Emergency Room, Intensive Care Unit
Titles
M.D., Ph.D
Expertise/Specialties
emergency medicine, critical care medicine, intensive care medicine, disaster medicine, mass gathering medicine
Research Interests
acuity, triage, monitoring, emergency medical service system, disaster medical response system
Languages
English /Japanese
Since the Secondary ICU was installed in 2007, the Intensive Care Unit had been managed with a total of 40 beds comprising the Primary and Secondary ICUs until the Critical Care Center was launched in 2010, and 6 of the beds in the Secondary ICU were reallocated for critical care, consequently decreasing the total number of ICU beds to 34. The repair work which took place in 2010 also led to a temporary decrease in the number of inpatients; however, with an increasing number of patients with severe diseases visiting the center for emergency outpatient services, the total number of inpatients has been increasing since then.
Annual number of inpatients
| | | | | | |
| --- | --- | --- | --- | --- | --- |
| Primary ICU | 823 | 795 | 844 | 760 | 675 |
| | | | | | |
| --- | --- | --- | --- | --- | --- |
| Secondary ICU | 1,865 | 1,865 | 1,862 | 1,817 | 1,755 |
Critical Care Center ICU
-
-
-
220
(from August)
268
| | | | | | |
| --- | --- | --- | --- | --- | --- |
| Total | 2,688 | 2,660 | 2,706 | 2,797 | 2,698 |

© Copyright 2014 The University of Tokyo Hospital. All Rights Reserved