Top > Centers & Services > Central Clinical Facilities and Clinical Research Division > Department of Hemodialysis and Apheresis
Department of Hemodialysis and Apheresis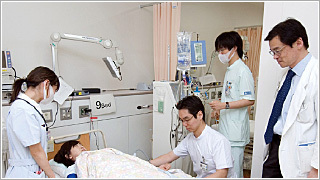 The Department of Hemodialysis and Apheresis is mainly responsible for 1) the induction of hemodialysis in chronic kidney disease patients, 2) maintenance dialysis while patients are hospitalized for complications, 3) renal replacement therapy for acute kidney injury and critical patients in ICU, and 4) plasma exchange and other apheresis therapy. The Department of Hemodialysis and Apheresis can provide a wide variety of advanced medical care through renal replacement therapy and apheresis, which is indispensable for the University Hospital.
Medical services
The Department of Hemodialysis and Apheresis has twelve beds and a highly advanced monitoring system is installed in each bed. We can perform dialysis/apheresis treatment safely even on critically ill and unstable patients. The specialists for dialysis and apheresis are engaged in daily treatment and provide optimal care to patients.
Diagnosis and treatment policy
The medical team, made up of doctors, nurses, and clinical engineers, discuss and decide treatment for each patient every morning. A weekly conference is held every Thursday to review and discuss dialysis/apheresis treatment plans with the specialists in other field such as cardiology and surgery.
Specialties
Large-volume plasma exchange : Large-volume plasma exchange is performed for liver transplantation, fulminant hepatitis, and TMA. We combined hemodialysis with large-volume plasma exchange to successfully minimize the complications of acid-base and electrolyte disorders.
Leukocyte adsorption : Leukocyte adsorption therapy is performed for the treatment of ulcerative colitis and rheumatoid arthritis using LCAP or GCAP column.
Double filtration plasmapheresis (DFPP) : DFPP is effective in the treatment of immunological disorders such as Guillain-Barre syndrome, CIDP, myasthenia gravis, and SLE. DFPP is also performed in ABO-mismatched kidney transplantation, pRA positive cases in cardiac transplantation, and HCV genotype lb chronic hepatitis.
Target diseases
Acute renal failure (acute kidney injury), chronic renal failure (chronic kidney disease), fulminant hepatitis, hepatic failure before liver transplantation, ulcerative colitis, Guillain-Barre syndrome, CIDP, myasthenia gravis, SLE, rheumatoid arthritis, pemphigus, cardiac failure, hyperkalemia, severe hyperlipidemia; In addition, we have introduced cell-free and concentrated ascites reinfusion therapy (CART) to intractable ascites due to tumor associated peritonitis.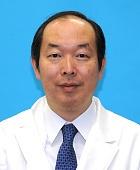 Departments/Divisions
Division of Nephrology and Endocrinology, Department of Hemodialysis and Apheresis
Titles
M.D. , Ph.D.
Expertise/Specialties
Chronic kidney disease, Acute kidney injury, End stage kidney disesae, Hemodialysis, Nephrotic syndrome, Renal anemia, Atypical hemolytic uremic syndrome
Research Interests
Oxygen metabolism of the kidney, immunological kidney injury, epigenetics, renal anemia
Languages
Japanese/English

© Copyright 2014 The University of Tokyo Hospital. All Rights Reserved