Top > Centers & Services > Central Clinical Facilities and Clinical Research Division > Department of Corneal Transplantation
Department of Corneal Transplantation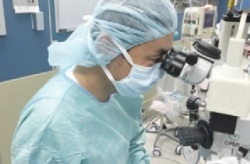 The Corneal Transplantation Section provides medical care for diseases of the cornea and conjunctiva. In addition to ordinary corneal transplant, we perform regenerative treatments such as cultivated autologous limbal epithelial transplantation and cultivated oral mucosal epithelial transplantation.
Medical services
Associate Professor Yamagami and other corneal specialists from the Department of Ophthalmology provide care for patients with diseases of the cornea and conjunctiva.
Diagnosis and treatment policy
The utmost effort is made to provide treatment that allows patients to enjoy a comfortable life with clear vision.
Specialties
Alkali trauma, acid trauma, Stevens-Johnson syndrome, and other severe conditions that affect the ocular surface
Cultivated cells from the patient's cornea and oral mucosa are transferred back to the patient's damaged eye surface, which triggers no rejection reaction and helps the patient recover clear vision.
Corneal and conjunctival infection
Bacteria, fungi, herpes, amebas and various other pathogen infections in the cornea and conjunctiva.
Keratoconus
Patients with mild or moderate keratoconus can recover their vision by wearing hard contact lenses. A corneal transplant is performed in those with highly advanced keratoconus.
Dry eye syndrome
According to the severity of the condition, different treatments, including artificial tears, lacrimal plugs, and lacrimal ablation, are performed. Clinical studies of new drugs for dry eye developed by pharmaceutical companies are being conducted.
Hereditary corneal disease
Corneal transplant are performed.
Allergic disease
Patients with vernal conjunctivitis and other serious conditions are treated with steroid and tacrolimus eye drops.
Corneal damage after ophthalmic surgery
The cornea may be damaged in ophthalmic surgery, which may result in deteriorated vision.

© Copyright 2014 The University of Tokyo Hospital. All Rights Reserved