Top > Centers & Services > Clinical Divisions and Departments > Vascular Surgery
Vascular Surgery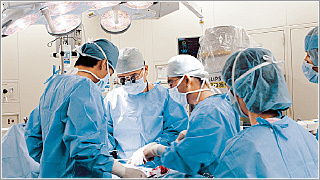 The Department of Vascular Surgery deals with non-cardiac diseases associated with arteries, veins, and lymph vessels in the neck, chest, abdomen, and upper and lower limbs.

Medical services
Vascular surgery outpatient services are provided from Monday to Friday by a team made up of one professor (Medical Practice department Manager), one lecturer, one project lecturer, four assistant professors, and 6 graduate students. Three prescheduled surgeries are performed weekly and emergent surgeries are performed whenever required. Vascular imaging and function examinations are performed four times each week.
Diagnosis and treatment policy
In the first consultation, a non-invasive vascular function examination is performed. Based on the results of this examination and the systemic condition of the patient, a treatment strategy is developed. Many patients receiving treatment at the department are the elderly, for whom improvement in quality of life is taken into consideration.
Specialties
Patients with a wide range of vascular disease from around the country, including arterial diseases such as abdominal aortic aneurysm and arterial occlusive disease, venous diseases such as lower extremity varicose veins and deep venous thrombosis, and lymphatic vessel diseases, visit our department for treatment. Our department plays a leading role in Japan particularly in the diagnosis and treatment of critical limb ischemia. We also frequently perform minimally invasive treatments such as stent grafting for abdominal aortic aneurysm and endovascular treatment for arterial occlusion. As one of the most highly respected vascular surgery departments in Japan, our surgeons have always led vascular surgery practice in the nation. The most accurate diagnoses, the most effective treatments, the large number of surgeries performed, and our physicians' abundant experience in this field are a source of great pride in the department.

Target diseases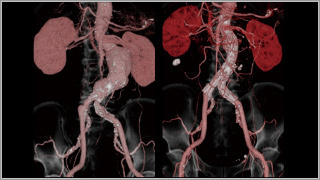 Thoracoabdominal aortic aneurysm, abdominal aortic aneurysm, other aortic aneurysms, arteriosclerosis obliterans (ASO), Buerger's disease, aortitis syndrome, carotid artery stenosis, Raynaud's disease, traumatic arterial occlusion, acute arterial occlusion, internal shunt failure in dialysis patients, lower extremity varicose vein, deep venous thrombosis, angioma, arteriovenous malformation, lymphatic edema, etc.
Advanced treatments/ Specialized treatments
Stent grafting
Minimally invasive treatments are provided for patients with abdominal aortic
aneurysm.
Percutaneous angioplasty is an intravascular treatment for arterial stenosis which can be performed under local anesthesia
Bypass surgery for lower leg and foot arteries in patients with critical limb ischemia, alleviating the need for lower limb amputation
Laser treatment for varicose vein of lower extremities
Frequently performed tests
Outpatients
Vascular imaging examinations, vascular physiological examinations, vascular ultrasound examinations, etc.
Inpatients
Vascular imaging examinations; Mainly those requiring the Seldinger technique
Major diseases and numbers of inpatients treated
| | Disease name | Total number of patients |
| --- | --- | --- |
| | | |
| --- | --- | --- |
| 1 | Obstructive arterial sclerosis (in the lower extremities) | 97 |
| | | |
| --- | --- | --- |
| 2 | Acute arterial occlusion | 5 |
| | | |
| --- | --- | --- |
| 3 | Abdominal aortic aneurysms (including thoracic and iliac aneurysms) | 63 |
| | | |
| --- | --- | --- |
| 4 | Lower-extremity varicose veins | 27 |
| | | |
| --- | --- | --- |
| 5 | Carotid artery stenosis | 0 |
| | | |
| --- | --- | --- |
| 7 | Shunt-related conditions | 70 |
| | | |
| --- | --- | --- |
| 8 | Visceral/peripheral arterial aneurysms/others | 45 |
Areas of expertise, treatment and examination methods
Diseases
Arteriosclerosis
Abdominal aortic aneurysms
Lower-extremity varicose veins
Deep vein thrombosis
Acute arterial occlusion
Visceral aneurism
Treatment methods
Bypass grafting
Aneurysm resection and graft placement/stent grafting
Laser ablation of lower-extremity varicose veins/stripping
Percutaneous angioplasty (such as PTA and stent placement)
Examination methods
Angiography
Gait function assessment
Plethysmography
Carotid ultrasonography
Foot blood pressure measurement
Numbers of major operations and treatments performed
| | Name of operation/treatment | Number |
| --- | --- | --- |
| | | |
| --- | --- | --- |
| 1 | Lower-extremity bypass grafting and revascularization | 18 |
| | | |
| --- | --- | --- |
| 2 | Aortic aneurysm resection/graft placement | 16 |
| | | |
| --- | --- | --- |
| 3 | Aortic stent grafting | 23 |
| | | |
| --- | --- | --- |
| 4 | Laser ablation of lower-extremity varicose veins/stripping | 27 |
| | | |
| --- | --- | --- |
| 6 | Resection of visceral/peripheral arterial aneurysms and shunt placement | 33 |
| | | |
| --- | --- | --- |
| 7 | Shunt-related conditions | 70 |
| | | |
| --- | --- | --- |
| 8 | Lower limbs / toe amputation | 26 |
Numbers of major and specialized examinations conducted in this department
| | Name of examination | Number |
| --- | --- | --- |
| | | |
| --- | --- | --- |
| 2 | Gait function assessment | 95 |
| | | |
| --- | --- | --- |
| 4 | Skin perfusion pressure test | 219 |
| | | |
| --- | --- | --- |
| 5 | Carotid ultrasonography | 2306 |
| | | |
| --- | --- | --- |
| 6 | Lower-extremity arterial and venous ultrasound | 887 |
| | | |
| --- | --- | --- |
| 7 | Renal artery ultrasound | 132 |

© Copyright 2014 The University of Tokyo Hospital. All Rights Reserved