Top > Centers & Services > Clinical Divisions and Departments > Radiology
Radiology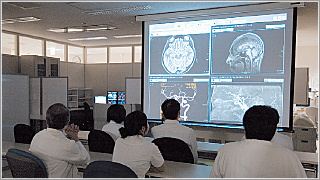 The Department of Radiology comprises the divisions of diagnostic radiology (CT, MRI, angiography), nuclear medicine (scintigram, PET), and radiotherapy (Linac, gamma knife).
Medical services
The Diagnostic Radiology Division performs various imaging examinations (CT, MRI, angiography) for assessment and diagnosis, and provides treatment for tumors and vascular lesions using interventional radiology (IVR). The Division of Nuclear Medicine performs radioisotope (RI) scintigraphy for assessment and diagnosis, as well as SPECT/ PET examinations. The Division of Radiotherapy provides treatment for cancer using radiation.
Diagnosis and treatment policy
The advantages of radiotherapy include less physical burden on patients and possible preservation of the structure and function of the affected organ. Complete cure can be achieved by radiotherapy alone or in combination with anticancer agents depending on the type and stage of the disease.
Specialties
Image processing using multislice CT/ MRI
An image processing and statistical analysis laboratory has been established for clinical application and basic research for this technique

PET
Detection of malignancies and assessment of malignancy grade and stage, assessment of central nervous system diseases, quantitative measurement of cerebral blood flow
Target diseases
Any disease involving structural and functional abnormality that can be visualized radiographically (Diagnostic radiology and Nuclear Medicine Divisions) and any disease with radioactive sensitivity (Radiotherapy Division)
Advanced treatments/ Specialized treatments
Stereotactic radiation to the head
A technique to deliver radiation to a lesion with an accuracy of within 1 mm using C-arm-mounted Linac and gamma knife to treat metastatic brain tumors, cerebral arteriovenous malformation, benign brain tumors (acoustic schwannoma, meningioma, etc.)
Stereotactic radiation to the trunk
A technique to deliver radiation to a thoracoabdominal lesion with an accuracy of within 5 mm designed mainly to treat lung tumors (primary or metastatic) and liver tumors (primary or metastatic)
Intensity modulated radiotherapy (IMRT)
A technique to deliver beams of radiation of variable intensity to tumors in the head and neck
Sealed source radiotherapy for prostate cancer (brachytherapy)
Permanent implant of very small capsules containing radioactive iodine for early-stage prostate cancer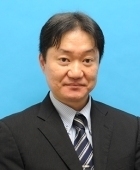 Departments/Divisions
Department of Radiology
Division of Diagnostic Radiology
Titles
M.D., Ph.D
Expertise/Specialties
General diagnostic radiology, neuroradiology, interventional radiology
Research Interests
Voxel-based analysis, voxel-based morphometry, diffusion magnetic resonance imaging,
functional magnetic resonance imaging
Languages
Japanese/English
1. Division of Diagnostic Radiology
Numbers of major treatments performed in this division
| | | |
| --- | --- | --- |
| 1 | Transcatheter treatment of hepatocellular cancer | 227 |
| | | |
| --- | --- | --- |
| 2 | Placement of central venous access port | 85 |
| | | |
| --- | --- | --- |
| 3 | Treatment of aneurysm, arteriovenous malformation, and arteriovenous fistula. | 9 |
| | | |
| --- | --- | --- |
| 4 | Percutaneous transhepatic portal vein embolization | 22 |
| | | |
| --- | --- | --- |
| 5 | Vasculoplasty and endovascular stent placement | 10 |
| | | |
| --- | --- | --- |
| 6 | Embolization of tumor before surgical treatment | 5 |
| | | |
| --- | --- | --- |
| 7 | Percutaneous Sclerotherapy for Peripheral Vascular Malformations | 7 |
| | | |
| --- | --- | --- |
| 8 | CT-guided biopsy/drainage/VATS marking | 122 |
Numbers of specialized examinations conducted in this department
| | Name of examination | Number |
| --- | --- | --- |
2. Division of Nuclear Medicine
Numbers of major examinations conducted in this department
| | Name of examination | Number |
| --- | --- | --- |
| | | |
| --- | --- | --- |
| 4 | Myocardial SPECT scan | 334 |
| | | |
| --- | --- | --- |
| 5 | Cardiac sympathetic nerve SPECT | 136 |
| | | |
| --- | --- | --- |
| 8 | Sentinel lymph node scintigraphy | 137 |
| | | |
| --- | --- | --- |
| 9 | Renal dynamic scintigraphy | 43 |
| | | |
| --- | --- | --- |
| 11 | Salivary gland scintigraphy | 74 |
| | | |
| --- | --- | --- |
| 12 | Gallium scintigraphy | 70 |
| | | |
| --- | --- | --- |
| 13 | Parathyroid scintigraphy | 37 |
| | | |
| --- | --- | --- |
| 14 | Gastrointestinal bleeding scintigraphy | 20 |
| | | |
| --- | --- | --- |
| 16 | Static renal scintigraphy | 7 |
3. Division of Radiotherapy
Numbers of new patients with primary lesions and irradiations for them performed in this division
Disease name
Inpatient
Outpatient
Number of patients
Number of irradiations
Number of patients
Number of irradiations
| | | | | |
| --- | --- | --- | --- | --- |
| Primary brain tumor | 65 | 534 | 21 | 338 |
| | | | | |
| --- | --- | --- | --- | --- |
| Primary spinal cord tumor | 1 | 30 | 0 | 0 |
| | | | | |
| --- | --- | --- | --- | --- |
| Nasopharyngeal cancer | 8 | 280 | 3 | 75 |
| | | | | |
| --- | --- | --- | --- | --- |
| Oropharyngeal cancer | 10 | 218 | 12 | 295 |
| | | | | |
| --- | --- | --- | --- | --- |
| Hypopharyngeal cancer | 11 | 296 | 9 | 264 |
| | | | | |
| --- | --- | --- | --- | --- |
| Tongue cancer | 5 | 123 | 5 | 116 |
| | | | | |
| --- | --- | --- | --- | --- |
| Oral cancer (other than tongue cancer) | 2 | 22 | 1 | 1 |
| | | | | |
| --- | --- | --- | --- | --- |
| Nasal cavity tumor | 3 | 69 | 1 | 21 |
| | | | | |
| --- | --- | --- | --- | --- |
| Paranasal tumor | 6 | 155 | 4 | 83 |
| | | | | |
| --- | --- | --- | --- | --- |
| Pharyngeal cancer | 3 | 82 | 16 | 473 |
| | | | | |
| --- | --- | --- | --- | --- |
| Salivary gland tumor | 0 | 0 | 2 | 31 |
| | | | | |
| --- | --- | --- | --- | --- |
| Esophageal cancer | 45 | 455 | 36 | 616 |
| | | | | |
| --- | --- | --- | --- | --- |
| Lung cancer | 37 | 463 | 44 | 199 |
| | | | | |
| --- | --- | --- | --- | --- |
| Mediastinal tumor | 3 | 92 | 2 | 31 |
| | | | | |
| --- | --- | --- | --- | --- |
| Breast cancer | 13 | 100 | 88 | 2,076 |
| | | | | |
| --- | --- | --- | --- | --- |
| Cholangiocarcinoma | 5 | 32 | 4 | 22 |
| | | | | |
| --- | --- | --- | --- | --- |
| Pancreatic cancer | 3 | 3 | 1 | 5 |
| | | | | |
| --- | --- | --- | --- | --- |
| Rectal cancer | 10 | 83 | 26 | 586 |
| | | | | |
| --- | --- | --- | --- | --- |
| Cervical cancer | 21 | 151 | 36 | 737 |
| | | | | |
| --- | --- | --- | --- | --- |
| Endometrial cancer | 2 | 30 | 7 | 128 |
| | | | | |
| --- | --- | --- | --- | --- |
| Cancer of the vulva | 1 | 1 | 1 | 29 |
| | | | | |
| --- | --- | --- | --- | --- |
| Prostate cancer | 5 | 53 | 61 | 1,899 |
| | | | | |
| --- | --- | --- | --- | --- |
| Renal carcinoma | 11 | 64 | 3 | 49 |
| | | | | |
| --- | --- | --- | --- | --- |
| Testicular tumors | 0 | 0 | 2 | 32 |
| | | | | |
| --- | --- | --- | --- | --- |
| Non hodgkin's lymphoma | 13 | 214 | 15 | 240 |
| | | | | |
| --- | --- | --- | --- | --- |
| Hodgkin's lymphoma | 1 | 40 | 3 | 43 |
| | | | | |
| --- | --- | --- | --- | --- |
| Primary bone tumor | 3 | 3 | 0 | 0 |
| | | | | |
| --- | --- | --- | --- | --- |
| Primary soft tissue tumor | 3 | 40 | 2 | 61 |
| | | | | |
| --- | --- | --- | --- | --- |
| Cancer for unknown primary origin | 5 | 70 | 3 | 71 |
| | | | | |
| --- | --- | --- | --- | --- |
| Other malignant tumors | 6 | 55 | 7 | 187 |
| | | | | |
| --- | --- | --- | --- | --- |
| Other benign disorders | 23 | 24 | 1 | 20 |
| | | | | |
| --- | --- | --- | --- | --- |
| Brain, spinal cord tumor | 5 | 27 | 0 | 0. |
| | | | | |
| --- | --- | --- | --- | --- |
| Hepatic, biliary, and pancreatic cancer | 0 | 0 | 1 | 8 |
| | | | | |
| --- | --- | --- | --- | --- |
| Others (malignant tumor) | 1 | 20 | 0 | 0 |
| | | | | |
| --- | --- | --- | --- | --- |
| Skin, bone, soft tissue tumor | 2 | 23 | 10 | 110 |
| | | | | |
| --- | --- | --- | --- | --- |
| Stomach, small intestine, colorectal cancer | 1 | 10 | 3 | 25 |
| | | | | |
| --- | --- | --- | --- | --- |
| Cranial and cervical tumors (including thyroid tumors) | 5 | 55 | 3 | 37 |
| | | | | |
| --- | --- | --- | --- | --- |
| Pulmonary, tracheal, and mediastinal tumors | 3 | 24 | 8 | 48 |
| | | | | |
| --- | --- | --- | --- | --- |
| Gynecological tumors | 3 | 43 | 7 | 84 |
| | | | | |
| --- | --- | --- | --- | --- |
| Bone and soft tissue | 1 | 11 | 0 | 0 |
| | | | | |
| --- | --- | --- | --- | --- |
| Urological tumors | 1 | 10 | 21 | 545 |
| | | | | |
| --- | --- | --- | --- | --- |
| Hematopoietic and lymphatic tumors | 1 | 1 | 2 | 15 |
| | | | | |
| --- | --- | --- | --- | --- |
| Urinary system (excluding the prostate) | 1 | 11 | 0 | 0 |
| | | | | |
| --- | --- | --- | --- | --- |
| Primary brain tumor | 3 | 11 | 1 | 25 |
| | | | | |
| --- | --- | --- | --- | --- |
| Lower gastrointestinal tract | 0 | 0 | 1 | 8 |
| | | | | |
| --- | --- | --- | --- | --- |
| Non-classified | 17 | 162 | 41 | 835 |
(January to December, 2013)
Numbers of major treatments performed in this division
| | | |
| --- | --- | --- |
| 1 | Linac external-beam radiotherapy | 16,256 |
| | | |
| --- | --- | --- |
| 2 | Gamma-knife therapy | 117 |
| | | |
| --- | --- | --- |
| 3 | Linac stereotactic radiotherapy (brain and trunk) | 74 |
| | | |
| --- | --- | --- |
| 4 | Intensity-modulated radiotherapy | 164 |
| | | |
| --- | --- | --- |
| 5 | Iridium brachytherapy | 36 |
| | | |
| --- | --- | --- |
| 6 | Permanent brachytherapy for prostate cancer | 14 |
| | | |
| --- | --- | --- |
| 7 | Intraoperative radiotherapy | 0 |
| | | |
| --- | --- | --- |
| 8 | Radioactive iodine therapy | 65 |
(January to December, 2013)

© Copyright 2014 The University of Tokyo Hospital. All Rights Reserved