Top > Centers & Services > Clinical Divisions and Departments > Hepatobiliary and Pancreatic Surgery
Hepatobiliary and Pancreatic Surgery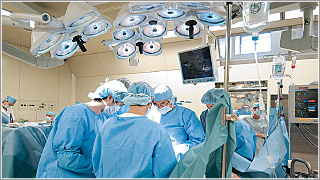 Hepatobiliary and Pancreatic Surgery specializes in the surgical treatment of malignant tumors in the hepatobiliary and pancreatic systems. The department also provides surgical treatment for a wide variety of hepatobiliary and pancreatic diseases including benign diseases such as esophageal varices, cholelithiasis, and anomalous arrangement of the pancreaticobiliary ducts.
Medical services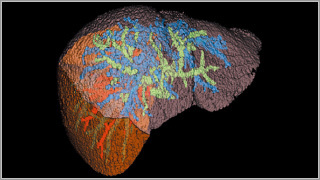 A team approach is provided in treating patients. Treatment plans are discussed and decided at staff conferences based on evidence. The attending physician provides periodic medical consultation to the patient after discharge.
Diagnosis and treatment policy
Surgeons provide surgical treatment for liver cancer and metastatic liver cancer. For patients with portal vein tumor thrombus and multiple metastatic liver cancer who have been declared inoperable elsewhere, doctors at the Hepatobiliary Pancreatic Surgery Department carefully investigate the feasibility of Medical services.
Diagnosis and treatment policy surgical resection. Recently, living donor liver transplantation has been included as a treatment options for cirrhotic patients with primary liver cancer.

Specialties
Hepatectomy and pancreatectomy for liver cancer, biliary cancer, and pancreas cancer; liver transplantation
Target diseases
Primary liver cancer, metastatic liver cancer, biliary tract cancer (Klatskin's tumors, gallbladder cancer, low biliary tract cancer, papillary cancer), pancreatic cancer and other pancreatic tumors, liver abscess, intrahepatic stone, bile duct stone, gallstone cholecystitis, biliary dilatation, anomalous arrangement of the pancreaticobiliary ducts, pancreatitis, portal hypertension (esophagogastric varices), etc.
Advanced treatments/ Specialized treatments
Surgical treatment using cryopreserved vein grafts
Navigation system for hepatectomy using 3-dimensional images
Laparoscopic hepatectomy, pancreatectomy
Portal vein embolization
a pre-surgical procedure to enhance the safety of radical hepatectomy
Frequently performed tests
Hepatocellular carcinoma
First line treatment is resection if the criteria for hepatectomy are met. For patients with recurrence, subsequent hepatectomy is performed with the aim of prolonging survival time.
Metastatic liver cancer
Aggressive surgical resection is performed. For patients with recurrence, total resection is performed subsequently with the aim of complete cure in combination with chemotherapy.
Pancreatic cancer
Pancreaticoduodenectomy or distal pancreatomy is performed according to the site of the tumor mass.
Klatskin's tumor
Pre-operative percutaneous transhepatic cholangiodrainage (PTCD) and portal vein embolization are performed to enhance safety prior to more radical hepatectomy.
Low biliary tract cancer
Pancreaticoduodenectomy is performed.
Gallbladder cancer
Based on a detailed preoperative diagnosis, rational radical surgery is performed.
Numbers of major operations and treatments performed
| | Name of operation/treatment | Number |
| --- | --- | --- |
| | | |
| --- | --- | --- |
| 1 | Hepatectomy (including hepatocellular cancer: 66; metastatic hepatic cancer: 74; and others: 34) | 177 |
| | | |
| --- | --- | --- |
| 2 | Donor hepatectomy for liver transplantation | 14 |
| | | |
| --- | --- | --- |
| 3 | Pancreaticoduodenectomy | 60 |
| | | |
| --- | --- | --- |
| 4 | Distal pancreatectomy | 35 |
| | | |
| --- | --- | --- |
| 5 | Laparoscopic surgeries (including hepatectomy: 12; pancreatectomy 5:cholecystectomy: 78) | 102 |
Areas of expertise, treatment and examination methods
Diseases
Hepatocellular and cholangiocellular cancer
Metastatic hepatic cancer (such as colon cancer)
Pancreatic cancer and pancreatic neuroendocrine tumors
Hepatic portal cholangiocarcinoma
Carcinoma of the middle and lower thirds of the bile duct
Gallbladder cancer
Malfusion of the pancreaticobiliary duct
Portal hypertension (such as esophageal and gastric varices and hypersplenism)
Treatment methods

Resection is considered as first-line treatment, depending on the hepatic function and tumor condition. In metastatic hepatic cancer, technically resectable metastatic lesions are removed in principle, without setting upper limits. Recurrent lesions are actively re-resected for cure. While increasing the safety level by performing preoperative biliary drainage, portal embolization, and 3-D image analysis (as image-based navigation for hepatectomy), more curative techniques, such as extended hepatectomy and hepatopancreatoduodenectomy, may be adopted in some cases.
Examination methods
CT scans; abdominal ultrasound; angiography; endoscopic ultrasound (EUS): Primovist contrast-enhanced MRI (EOB-MRI); magnetic resonance cholangiopancreatography (MRCP); endoscopic retrograde cholangio-pancreatography (ERCP); and 3-D image analysis (image-based navigation for hepatectomy);diagnosis using the ICG fluorescence method; navigation surgery

© Copyright 2014 The University of Tokyo Hospital. All Rights Reserved