Top > Centers & Services > Central Clinical Facilities and Clinical Research Division > University Hospital Medical Information Network Center
University hospital Medical Information Network Center (UMIN)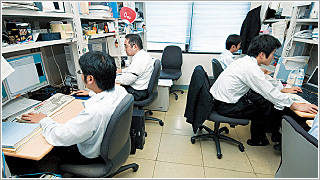 The University Hospital Medical Information Network Center (UMIN) is a unique data center for medical research and education. This center has inter-university facilities to collect and publish variety of data relating activities in hospital.

Outline
The center provides an internet information service, known as "The University Hospital Medical Information Network", for medical researchers, students, and staff at university hospitals.
Characteristics
The center serves a data center shared by university hospitals. Its services are widely available not only to the University of Tokyo Hospital but also to registered users. The number of users is about 440,000 and the total web page views per month reaches about 110,000,000. The operational policy of the UMIN is determined by the University Hospital Medical Information Network Council established under the National University Hospital Council.

Activities
The UMIN's services cover wide variety of fields on medical research and education. INDICE (UMIN Internet Data and Information Center of Clinical Research) provides electronic case report forms for over 200 clinical or epidemiological research projects. CTR(Clinical Trial Registry) publishes registrations of over 22,000 clinical studies, that covers over 85% of all Japanese trial registrations. EPOC (Evaluation System of Postgraduate Clinical Training) and DEBUT (Dental Training Evaluation and Tabulation System) are used by many dental interns and supervising dentists. UMIN is a member of CDISC (Clinical Data Interchange Standards Consortium), and does researches on application of the CDISC's standards to interchange metadata of medical researches.


© Copyright 2014 The University of Tokyo Hospital. All Rights Reserved