Top > Centers & Services > Central Clinical Facilities and Clinical Research Division > Unit for Early and Exploratory Clinical Department
Unit for Early and Exploratory Clinical Department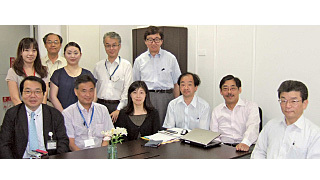 The Unit for Early and Exploratory Clinical Development was established in 2011 with the aim to develop innovative medicines in Japan for the treatment of neurological/psychological disorders.
Outline
The Ministry of Health, Labour, and Welfare, has initiated a project to organize the system of early/exploratory clinical trials in Japan in an effort to put the results of basic researches achieved domestically to practical use. The project envisages implementation of world's first clinical trials and creation of innovative medicines and medical equipment originating in Japan. The University of Tokyo Hospital has been selected as the project base responsible for neurological/psychological disorders. The Unit for Early and Exploratory Clinical Development plays a central role of this project.
Project Description
In 2012, a new facility to perform phase I studies was built within the Clinical Research Support Center. The unit has successfully completed a phase I clinical trial for Alzheimer's disease administering a new medication to humans for the first time.
In the near future, it plans to perform validation tests of the efficacy and safety of the medication based on the international evaluation standards using such devices as the imaging systems and biomarkers. The unit also actively searches for "seeds" of new medicines not only within its hospital, but also widely from outside the university.


© Copyright 2014 The University of Tokyo Hospital. All Rights Reserved