Top > Centers & Services > Central Clinical Facilities and Clinical Research Division > Nursing Department
Nursing Department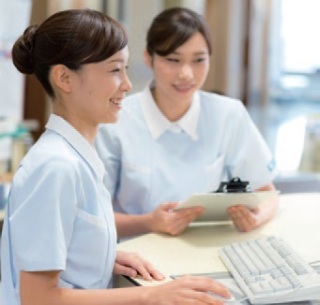 Nursing Department is staffed by more than 1,200 nurses and midwives. We provide care for about 1,100 inpatients and 3,000 outpatients per day.
Missions
To provide the proper nursing care for patients
To train highly competent professionals
To aim at the development of nursing and medicine
Efforts
Nursing that raise patients' natural power
All divisions of the Nursing Department work on the motto of "Nursing that raise patients' natural power", and this is obtaining good results. Especially in university hospital taking charge of acute phase of patients, we hope to provide nursing care so that patients can receive treatment without anxiety and spend ordinary daily life, that leads patient's will to recover and raises natural recuperative power.
Educational system for improving ability in nursing practice
Judgment based on good knowledge and evidence, accurate nursing skills, and high ethics are very important in patient care. Seven nurses engaged in nursing education and the nurses in charge of education in each nursing unit leads learning of more than 1,200 nurses. The carrier ladder system supports active learning and development of nurses from beginners to experts. The online training tool "Nursing Skills Japan" supervised by the Department has been used as teaching materials.
Building the good collaborative relationship with various health profession for most suitable team care
The medical care in the university hospital is made up of the collaboration with various health professions or cross-sectional team, as well as doctors and ward nurses. The Nursing Department is the first to respect each other and to strengthen cooperating relations.
Proactive approach to nursing research
We are committed to promoting nursing research in earnest, one of the roles of university hospitals. In the carrier laddar system, nurses will learn the nursing research step by step, supported by Clinical Nurse Specialists (CNS), Certified Nurses (CN), nurses with master's degree working in the hospital, nurse managers, and teaching staff in the School of Nursing, the University of Tokyo.

© Copyright 2014 The University of Tokyo Hospital. All Rights Reserved