Top > Centers & Services > Central Clinical Facilities and Clinical Research Division > Emergency Service / Critical Care Center
Emergency Service / Critical Care Center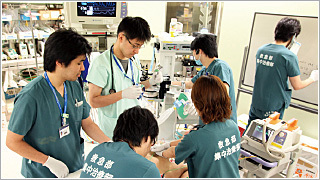 In order to respond to the emergency medical care needs in Tokyo, Emergency Services provides a wide range of critical and emergency care. In December 2010, the Tokyo Metropolitan Government approved the center as a high-level emergency hospital, and since then we have been working to further enhance emergency care.
Medical services
Primary care is made by doctors from the all Departments. If specialized treatment is deemed necessary, well-trained specialists provide such treatment. For patients with a particularly high degree of urgency or severity, such as those suffering from shock, consciousness disorder, multiple traumas, cardiopulmonary arrest, or drug intoxication, doctors in the Emergency Services and Intensive Care Unit conduct primary care and stabilization treatment. In the fall of 2006 this department was relocated to the first floor of Central Clinical Service Bldg. 2. The Critical Care Center is equipped with emergency imaging examinations (CT, XP), and there are two emergency treatment rooms, and examination rooms devoted to internal medicine, surgery, pediatrics, obstetrics and gynecology, ophthalmology, otorhinolaryngology, and dentistry. The emergency ward is equipped with 14 beds for immediate hospitalization and follow-up.
Treatment Policy
We aim to provide highly advanced medical care to the fullest extent possible to all patients in need of urgent medical diagnosis and treatment to the extent that we can.
Specialties
Because at least one doctor from each department is regularly stationed in the hospital, Emergency Services covers all areas of emergency care. In addition, through cooperation with the other departments, emergency imaging, specimen tests, and surgeries can be conducted 24 hours a day.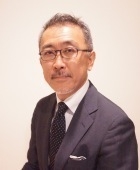 Departments/Divisions
Department of Acute Medicine
Tertiary Emergency and Critical Care Center, Emergency Room, Intensive Care Unit
Titles
M.D., Ph.D
Expertise/Specialties
emergency medicine, critical care medicine, intensive care medicine, disaster medicine, mass gathering medicine
Research Interests
acuity, triage, monitoring, emergency medical service system, disaster medical response system
Languages
English /Japanese
The establishment of comprehensive medical care systems in 2010 has enabled us to provide all patients requiring primary to tertiary care with emergency physicians' treatment, as necessary. In addition, construction work to install 6 ICU beds to be exclusively used for critical care and an emergency ward consisting of 14 beds took place from May to July, 2010, in order to establish a system to provide patients in a serious condition with emergency care on a 24-hour basis. Although the number of emergency patients temporarily decreased due to construction work, the number of those requiring tertiary emergency care has been particularly and rapidly increased since then.
Annual number of outpatients
| | | | | | | |
| --- | --- | --- | --- | --- | --- | --- |
| Emergency care | 760 | 675 | 693 | 658 | 658 | - |
| | | | | | | |
| --- | --- | --- | --- | --- | --- | --- |
| Transported by ambulance | 1,817 | 1,755 | 1,906 | 1,916 | 1,832 | - |
| | | | | | | |
| --- | --- | --- | --- | --- | --- | --- |
| Emergency hospitalization | 220(from August) | 268 | 249 | 271 | 293 | - |

© Copyright 2014 The University of Tokyo Hospital. All Rights Reserved