Top > Centers & Services > Central Clinical Facilities and Clinical Research Division > Department of Medical Record Management
Department of Medical Record Management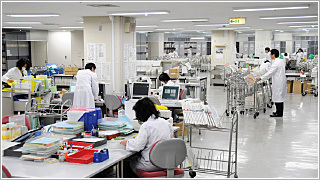 Department of Medical Record Management aims at appropriate management of the health records and also at further quality improvement of the content through cooperation with each clinical department or division in the University of Tokyo Hospital.
Sections and Business
The Department of Medical Record Management was established in 2009, and it is composed of two sections, examination and management sections. The Department has managed outpatient health records and X-ray films since 1994, and inpatient health records since 2001. The electronic health record system has been working since 2009.
Examination section
The health information managers who belong to this section check the format and content of the health records and other various attached documents. When the managers find any inappropriate content in health records, they report it and discuss with the corresponding clinical department to improve quality and accuracy of the health records.
Management section
This section takes a responsibility of properly keeping health records, documents and X-ray films both for inpatients and outpatients, and, if necessary, of providing clinical information of patients to clinical departments in UTH. This section attempts to contribute to activities of UTH by providing any service to all medical staff in UTH who wishes to use health records for clinical, research and education purposes.

© Copyright 2014 The University of Tokyo Hospital. All Rights Reserved