Top > Centers & Services > Central Clinical Facilities and Clinical Research Division > Database Center of the National University Hospitals
Database Center of the National University Hospitals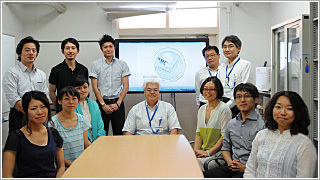 Database Center of the National University Hospitals was established to gather and analyze data for maintaining and improving the quality of medical care, research and education at national university hospitals, It aims to contribute to the improvement of the administration and management of these hospitals.
Outline
The Center is responsible for collecting and analyzing a wide variety of data related to National Universities Hospitals such as medical care, financial, and institutional data. The Center provides feedback to the Hospitals, and also provides constructive information for policy proposals. These activities are supervised by the Database Center Management Committee established under the National University Hospital Council of Japan.
Composition
The Center is staffed by a center director, Assistant Professors, researchers, system engineers and administrative personnel. In addition, teachers specializing in health policy, health management, and relevant fields also cooperate with Center staff. To fulfill the objectives of the Center, Database Center Management Committee and its project teams cooperate with one another.
Major activities
1. Collection, analysis and feedback of the following data.
i. Basic data on hospitals such as the number of patients, and the number of staff.
ii. Financial data.
iii. Data on clinical education.
iv. Data on the function of the national university hospital
v. Data on clinical research.
vi. DPC data.
vii. Purchase data of the pharmaceutical products and medical materials.
2. DPC data analysis using the OLAP (On-Line Analytical Processing) system.
3. Provision of information on policy proposals and relevant issues to the National University Hospital Council.
4. Establishment, operation, and security management of the databases.

© Copyright 2014 The University of Tokyo Hospital. All Rights Reserved