Top > Centers & Services > Central Clinical Facilities and Clinical Research Division > Center for Liaison and Public Relations
Center for Liaison and Public Relations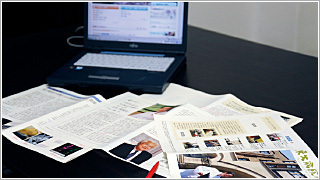 The Center for Liaison and Public Relations is responsible for public relations for the University of Tokyo Hospital, including the planning of publicity, the dissemination of information, the establishment of media relations, the promotion of university-society cooperation, and assistance to the Translational Research Center.
Activities
The Center provides information to domestic and international media, prepares press releases on research results at the University of Tokyo Hospital and other topics, organizes press conferences, and disseminates information through the hospital website. The Center also arranges tours of the hospital for visitors from medical, research and educational institutions in Japan and around the world. To help the public become more familiar with our hospital, the Center periodically publishes "The University of Tokyo Hospital Newsletter", which contains recent news and interesting information. The Center also cooperates with University Corporate Relations Headquarters to assist researchers in dealing with issues concerning intellectual property.
Current and future efforts
The Center not only serves as the point of contact for inquiries from external sources but also disseminates information on activities undertaken by the hospital so as to enhance its relationship with the community and contribute to improving health literacy.

© Copyright 2014 The University of Tokyo Hospital. All Rights Reserved