Top > Centers & Services > Central Clinical Facilities and Clinical Research Division > Administration Office
Administration Office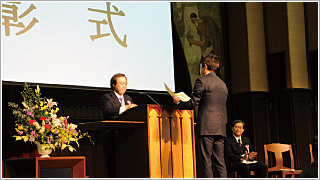 The Administration comprises four departments that are loosely connected to one another so that staff can deal with various issues flexibly regardless of which department or team they belong to. Aiming at speedy and smooth management, the entire Administration cooperates closely with hospital management departments and management support systems.
Office of general affairs
Office of General Affairs is responsible for a wide variety of administrative duties such as personnel, labor af fairs, and payroll-related issues for about 3,300 employees, welfare-related issues such as the management of mutual assistance programs and associations and the day-care center, legal issues, occupational safety and health issues, administrative activities to implement medical safety measures and hospital infection measures, reception of interns and the management of training programs, and activities relating to the implementation of training programs.
Office of procurement and facility management
Office of Procurement and Facility Management is responsible for the purchase of drugs, catheters and other medical materials used for treatments, contracts for medical equipment, and the purchase of consumable and other products used at the hospital. The office also manages these products by SPD, receives and manages external funds, purchases reagents and materials for research, and maintains and manages facilities and equipment.
Office of management planning
Office of Management Planning manages finances for hospital operation, plans projects that allow the hospital to keep up with health insurance reform and social changes, and implements these plans.
Office of medical accounting
Office of Accounting is responsible for the registration of outpatients and inpatients, fee calculation, credit management, application for medical expense reimbursement, and analyses of the hospital statistics. The office also serves as a point of contact for patient inquiries and is engaged in various activities to improve services for patients.

© Copyright 2014 The University of Tokyo Hospital. All Rights Reserved